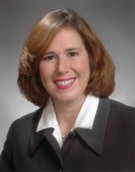 Lita (Lee) Pelko, CFP®, CRPC®
Lee joined Rodgers & Associates in 2004. As with each of our Planner-Advisers, her primary responsibilities include developing comprehensive wealth plans and ongoing tax and financial planning strategies to help our high net worth clients achieve their goals. Lee began her finance career in 1992 as a tax adviser for H&R Block. After nine years with that company, she spent the next five years with Miller & Miller CPAs, where she developed the firm's asset management services in cooperation with Oppenheimer & Co., the New York-based Wall Street investment consulting firm. While there she was noted for successfully transitioning high net worth clients into retirement by creating efficient tax and estate strategies that enhanced asset management services.
Lee is a Certified Financial Planner® practitioner, a NAPFA-Registered Investment Adviser, an active member of the Financial Planning Association and past President of the Lancaster Chapter of the Society of Financial Service Professionals. Most recently she was quoted in the CNNMoney.com and the NAPFA Perspectives newsletter. She also conducts seminars on financial matters for women throughout Lancaster County and serves on Rodgers & Associates' Charitable committee.
Lee graduated from Shippensburg University with a degree in Business Administration and a major in Finance. A classically trained pianist who enjoys theatre and the arts, Lee and her husband reside in Lancaster County.