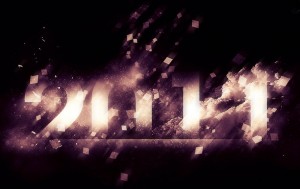 The "clean slate" philosophy is the reason why we make resolutions – we're going to lose weight, start exercising, quit smoking, save money, pay off debt, etc. I won't ruin the mood by going into the statistics on how few of these resolutions are actually kept. Nevertheless, we're off to a fresh start and optimism is running high, so I'd like to offer my suggestions for four New Year's resolutions that will help you get into financial shape in 2011.
1. Stop Procrastinating.
Procrastination is the biggest enemy of financial success. The longer you wait to start saving and investing, the more you have to save to reach your goal. That's because of the miracle of compound interest. Compound interest is said to be the eighth wonder of the world. That comment is often attributed to Albert Einstein, although no one really knows if he actually said it. He did, however, marvel at the mathematical concept.
In general, each month you wait to start saving, you will need to save one percent more to make up for the month you missed. For example, let's say that you are going to start saving $100 per month in January and plan to continue saving that amount until you are age 65. Instead of starting your savings plan in January, you procrastinate until February. Now, you need to save $101 per month to grow your savings to the same amount it would have been had you started on time. If you wait a year, you'll need to save $112 per month. Waiting 10 years will require $300 per month to get to the same place. Procrastination is expensive. Start now.
2. Set a Savings Goal
How much did you save in 2010? This year's goal should be to increase it. If you didn't save anything last year, I'd suggest a minimum of 10 percent of your income. The best way to accomplish this is to take 10 percent off the top from every paycheck and set it aside in a savings account. This will avoid having your potential savings make its way into the financial black hole we call a checkbook, where it may never return. Move money from savings to an investment account when the balance grows beyond the amount needed for a comfortable emergency fund. These funds are never to be spent. Their purpose is to provide you with an income at some point in the future so you never have to work for money again. Now your money is working for you.
3. Shop Your Insurance
One of the best tips for saving money on insurance is to shop your policies regularly. Price should not be the only consideration. You have insurance to protect you and your family financially. It's important that the company is financially stable and has a good claims-paying record.
Also, shop your insurances as a bundle. Bundling your homeowners, auto, liability, life and other insurances together is a great way to get a discount from insurers when they pick up all of your business. Be sure to ask for other discounts that you might qualify for when applying.
4. Don't Get Scared Out of the Market
Peter Lynch, famed manager of the Fidelity Magellan Fund and considered by some to be one of the greatest investors of our time, said, "The key to making money in stocks is not to get scared out of them." Apparently, many investors never studied Mr. Lynch. A Bloomberg survey taken in 2010 found that two-thirds of investors have not recovered anything from the 2008-2009 stock-market sell off. This is after the market recovered 60 percent from the March 2009 low! How can that be? They allowed themselves to be scared out of stocks and sat on the sidelines while the market recovered.
Many people believe that in order to be a successful investor, you have to know when to be in stocks and when to be out. This is utterly false. No one will ever know where the stock market is going over the next six to 12 months. All short-term market forecasts are guesses. The good news is that you don't have to know in order to be a successful investor. Maintain a broadly diversified portfolio and rebalance between your stocks and bonds as the market rises and falls. Stock ownership really represents ownership in a business. Businesses change and adapt to the economic climate in order to survive and remain profitable. It should be no surprise that many businesses are reporting record profits even though the economy has not really recovered. They have already adapted to a slower economic environment.
A New Year Means Changes
There will be a lot of changes coming our way in 2011. We have a new political makeup in Congress that will be taking on the high unemployment rate and looking for ways to stimulate the economy. A new tax policy will surely be part of this process. The Dow Jones Industrial Average is still well below the high of 14,000 set back in 2007. Hopefully it will continue to make progress upwards.
And finally, The Patient Protection and Affordable Care Act was passed into law in early 2010. Many parts of this legislation will be phased in over time. Some of those provisions will take effect in 2011 as this landmark legislation seeks to reshape healthcare in the United States. These issues, among others, have the potential to impact your financial freedom. However, the greatest impact will come from the decisions you make today. Make sure you get your new year off to a great start.
This article originally appeared in Lancaster County magazine.
Graphic by iUnique FX