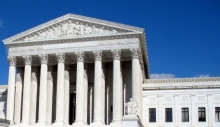 The Supreme Court's decision to extend the right to marry to same-sex couples no matter where they live levels the financial field across all 50 states. There were 14 states where same-sex marriage had been banned. Couples living in states that didn't recognize same-sex unions could not collect a spousal benefit on Social Security, even though it's a federal benefit and even if they had been legally married in another state. Now, all couples can access Social Security spousal benefits.
Some same-sex couples filed for spousal benefits after the Supreme Court overturned some aspects of the Defense of Marriage Act two years ago. The issue of collecting spousal benefits while living in a state where the marriage was not recognized was not clear. With national recognition, all married people, regardless of which state they live in, will be entitled to spousal, survivor and other benefits. Couples can collect benefits and will even be able to collect retroactively to when they originally filed an application.
One important Social Security issue remains unresolved. Couples must be married for nine months before they become eligible for survivor benefits. However, some couples did not have the ability to marry in their home states until recently. Their spouse would not be eligible for benefits if they died before they met the nine-month requirement.
The Supreme Court's decision from two years ago also left a lot of questions unanswered regarding estate taxes. The issue of federal estate tax was settled. Married same-sex couples could pass unlimited assets estate tax-free to their spouse. The problem arose when the couple lived in a state that had their own estate or inheritance tax and did not recognize the couple's marriage. Same-sex married couples now have the same legal rights of spouses. They have the right to inherit property from their spouse even without a will. They gain the right to administer a spouse's estate, bring wrongful-death actions and prevent other relatives from contesting wills. Individuals will also be able to inherit property from a spouse without paying any state estate or inheritance taxes.
The new ruling also simplifies income tax filing. Most couples complete their federal return first because most of the numbers carry over to their state return. Same-sex couples living where their marriage wasn't recognized had to file two different returns – first filing a federal return as married, then a second return as a single in order to finish their state return. These couples no longer have to prepare two sets of tax returns: a joint one for the federal government and individual ones for states.
Same-sex couples will now enjoy the same income tax benefits—and sometimes downsides—of filing taxes as a married couple. One potential downside is the so-called "marriage penalty." Two high-earning taxpayers will owe more taxes when filing jointly than they would if they filed a single return.
The Bush tax cuts attempted to eliminate the marriage penalty 14 years ago. However, the marital penalty still exists for couples of all genders who earn a combined amount of more than $151,200 a year. If each spouse earns about half of the income, the government will take about 5% more of every marginal dollar earned than what they would owe if they were each filing a single return. The American Taxpayer Relief Act of 2012 (ATRA12) restored the top tax rate of 39.6% for taxpayers with income over $413,200 ($464,850 for joint filers)[1] making the penalty even worse. The new Medicare surtax taking effect this year also carries a marriage penalty; an additional tax of 3.8% to the lesser of net investment income or the excess of modified adjusted gross income over the threshold of $200,000 for single taxpayers and $250,000 for joint filers[2].
Travel will become less worrisome. Same-sex spouses no longer have to be concerned about getting shut out of medical decisions in the unfortunate event that one partner needs medical care while traveling to a non-recognition state. In the absence of medical directives or a power of attorney, states may designate who should make medical decisions for people who are incapacitated or unable to make decisions on their own. Spouses will be recognized in places where they currently are not.
Finally, it will now be possible to end the relationship through divorce in states that did not previously recognize same-sex marriages. Before the ruling, married same-sex couples living in non-recognition states would typically have had to establish residency elsewhere to get a divorce. Some states don't have a residency requirement to get married but do require residency to get a divorce. A common problem with same-sex marriages was determining when the union actually took affect for purposes of issues like the division of property.
Rick's Tips:
All married people are now entitled to spousal, survivor and other Social Security benefits regardless of which state they live in.
Same-sex married couples now have the right to inherit property from their spouse even without a will.
States designate who should make medical decisions for people who are incapacitated or unable to make decisions on their own when there is no medical directive.
[1] 2015 income thresholds. The income levels are adjusted each year for inflation.
[2] Medicare surtax income levels are not adjusted for inflation.