Many retirees sign up for Medicare at age 65 as their primary form of medical insurance. However, if you retire before age 65 without coverage from a former employer, you may find yourself looking for coverage through the Health Insurance Market­place. Depending on your income and household size, you may qualify for federal tax credits, a combi­nation of credits and subsidies, or Medicaid. The surprising part is that some high net worth and high income earners can qualify.
For example, a household of two 62-year-olds living in Chester County, PA with an income of $55,000 may qualify for a $913/month tax credit, according to Healthcare​.gov.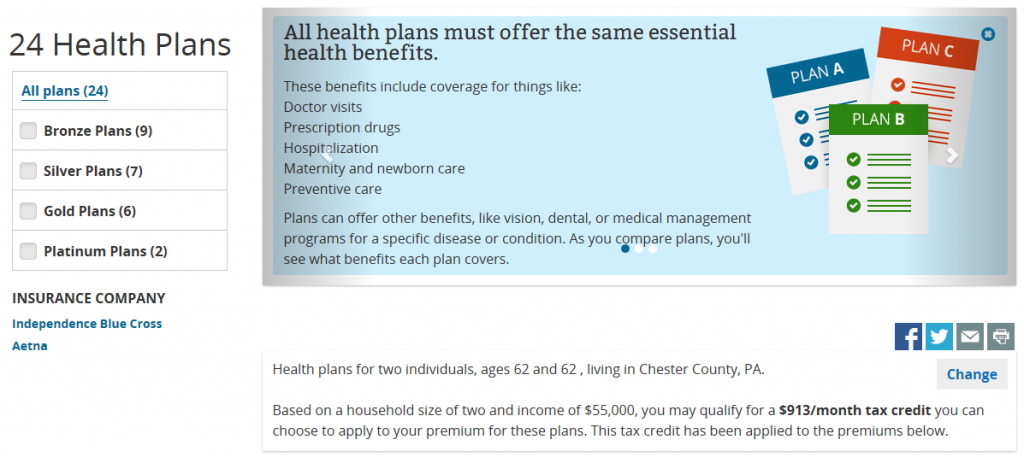 The key is finding ways to keep your income low. The same couple with an income over $62,040 (400% of the federal poverty level in 2014) would not qualify for any savings!
Here are 5 ways you can lower your Modified Adjusted Gross Income (MAGI):
Fund a Retirement Account – If you still have wages from a job and you qualify, contributing to a tax-deferred 401(k) or other plan will directly lower your taxable income.
Defer Retirement Account Withdrawals – If you are taking distri­b­u­tions from your portfolio for living expenses, draw from your non-retirement accounts first. Invest­ments that are sold here to generate cash for withdrawals are generally taxed on just the gains. On the other hand, IRA withdrawals typically count 100% as ordinary income. You might also make use of tax-free withdrawals from your Roth IRA (if eligible).
Use Investment Losses – If you have a non-retirement account, it's a good year-end habit to determine if you can take investment losses and net them with gains.
Wait to Take Social Security – A lot can go into this decision, but not drawing on Social Security means less income.
Keep Interest Income in Retirement Accounts – Investing more efficiently is dependent upon proper asset location. Hold interest-bearing invest­ments (e.g., bonds) in your retirement accounts, instead of non-retirement accounts. Then, hold equity invest­ments (e.g., stocks) that don't pay dividends (and hopefully just appre­ciate in value) in non-retirement accounts.