Rodgers & Associates at The Manor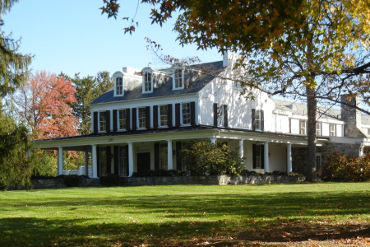 Rodgers & Associates is located in Lancaster, PA in the Lititz Pike property that for the past several decades has been known as Armstrong Manor.
About Our Location
The Manor allows us to comfortably accommodate our clients, provides plenty of parking, and seating for as many as sixty attendees at our seminars. Rodgers & Associates is the sole occupant of The Manor.
The Manor provides ample room for not only clients and guests, but also for our growing professional staff. With recent additions, we have begun utilizing the second floor offices. We expect to continue this growth to maintain our high standards of personalized service to our clients.
Finally, at The Manor we have an elegant space to offer to nonprofits to use for small special events. We offer our gathering spaces to community serving nonprofits for free as a way of giving back and showing our support. We also support, in additional ways, specific nonprofit organizations that we have selected.
Information for Nonprofits
If your nonprofit organization is interested in the possibility of hosting a special event for a small group at The Manor at no cost, please email Ann McCoy at manorevents@rodgers-associates.com. Events that will work well in the available spaces include a thank-you luncheon or dinner and small fundraising gatherings. It is available for special events, rather than regular meetings.
Lancaster County magazine covered the Rodgers & Associates move to The Manor in a December 2012 article by Sue Long.
Driving Directions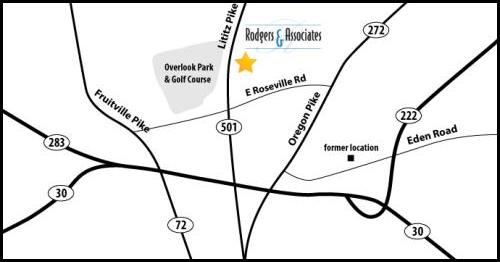 The Manor is located two miles north of Lancaster City, on Lititz Pike, directly across from the Overlook Golf Course. The location offers plentiful free on-site parking available for our clients and guests. Rodgers & Associates is the only business located at this address.
Get custom directions from Google Maps »
From West of Lancaster:
Take Route 30 East to the Lititz Pike/Oregon Pike exit. Turn left onto Lititz Pike/Route 501. Travel north 0.8 miles, and The Manor will be on your right.
From East of Lancaster:
Take Route 30 West to the Lititz Pike exit. Turn right onto Lititz Pike/Route 501. Travel north 0.8 miles, and the Manor will be on your right.
From Lancaster City and South:
Travel north through the City of Lancaster on Route 222/272, which becomes Lititz Pike. North of the city, stay on Lititz Pike by continuing straight at the light near Walgreen's and the Golden Triangle shopping center. Lititz Pike is now Route 501. Continue north an additional 1.5 miles, and The Manor will be on your right.
From Lititz and North:
Take Route 501/Lititz Pike south through Neffsville, toward Lancaster city. After passing the entrance to Overlook Park and Golf Course (on your right), the entrance to The Manor is 500 feet ahead on your left.
Get custom directions from Google Maps »