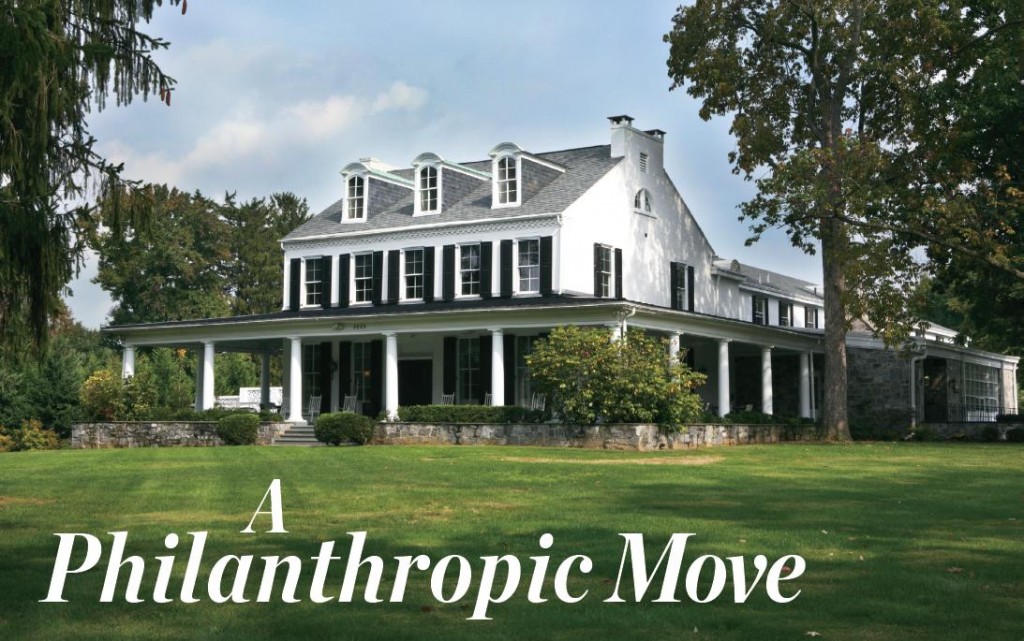 Written By Sue Long, Photographs by Nick Gould
Relocating their company to The Manor is not only enabling Rick and Jessica Rodgers to accom­modate a growing staff, but it is also allowing them to give back to the community.
Moving is never easy. Rick and Jessica Rodgers discovered that when they deemed it was time to find a new home for Rodgers & Associates, a fee-only, wealth-management company that serves high-net- worth individuals. The building itself wasn't the issue expansion was possible. Parking was the problem. When the company, which Rick and Jessica founded in 1996, hosted seminars, employees had to vacate the parking lot in order to accom­modate visitors.
So, Rodgers & Associates began searching for office space in the 8,000 sq. ft. range that offered plenty of parking. That's when they discovered a hitch in their plans: spacious parking lots typically surround large office buildings. "It began to look like we'd have to be a landlord," Rick says. Then, in spring 2011, they learned of Armstrong World Industry's plan to sell Armstrong Manor. "We were familiar with the property," Rick notes. "Unfor­tu­nately, it was under agreement." Still, they kept tabs on the progress of the sale. When Jessica called the realtor handling the property in July 2011, she was told the original offer had been withdrawn, but that another party was preparing a bid. Realizing it was now or never, the couple submitted their own bid.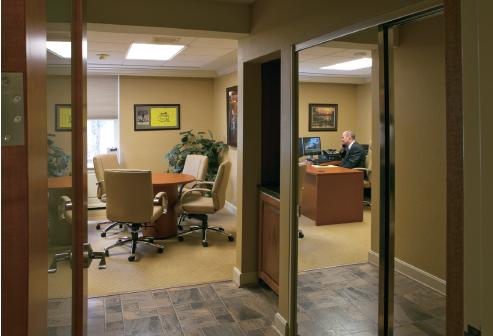 The farmhouse built by David Locher in 1866 was the center­piece of his 120-acre Bloom­ington Farm. Armstrong Cork Company purchased the house in 1920 – naming it Armstrong Manor – in order to provide sales trainees with a comfortable place to stay during their six-month training period in Lancaster. An addition enlarged the facility in 1966. The bedrooms that were contained in the addition were easily trans­formed into offices for Rodgers & Associates' 14 staff members. Each office contains a private bath, mini-kitchen, conference area and desk.
The manor is part of Lancaster's history, as it relates to both the agricul­tural and indus­trial heritage of the county. Records indicate the house, which sat amid 120 acres that comprised the Bloom­ington Farm, was built in 1866 by David P. Locher, who was an influ­ential tanner, banker and farmer. Ownership of the house was trans­ferred to Grove Locher in 1906.
Three years later, a fledgling business – Armstrong Cork Company – regarded Lancaster as a good place to relocate (from Pitts­burgh) and began to build a factory on the edge of the city. The company's new product – linoleum – would create a giant in the building industry.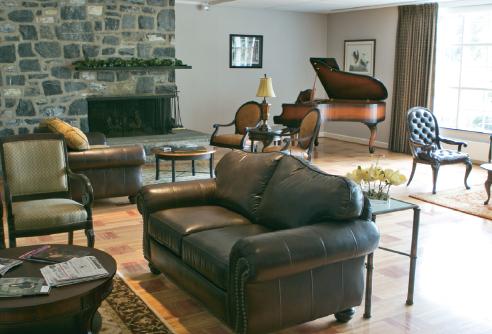 In 1920, the worry of two parents – company president Charles D. Armstrong and his wife, Gertrude – led to a ground­breaking business decision. Their son, Dwight, was training to join the company's sales team and was living in what his father considered to be a substandard rental in the city. The Armstrongs purchased the Locher farmhouse, trans­forming it into living quarters that could accom­modate two-dozen men for the six-month training sessions. "It was innov­ative for the time," Rick says of the company-owned, inn-like facility that came to be known as Armstrong Manor.
Later, Armstrong Manor would provide company officials with a comfortable setting for meetings with visiting Armstrong employees and customers. An addition enlarged the facility in 1966. Built of concrete, it provided 24 hotel-style rooms for visitors on two floors, as well as a reception/lounge area. The original building was remodeled to contain a dining room, a commercial kitchen and a conference room.
Armstrong's dedicated mainte­nance of the facility made it almost move-in ready. The short list of problems – removing a family of skunks from under the front porch, replacing the roof and adding parking pads – was easily accom­plished. "There's a long list of things we'd like to do, but one thing at a time," Rick says of such items as landscaping, holiday decora­tions, etc.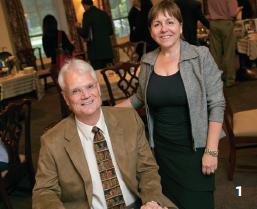 Adaptive reuse played a role in config­uring office space. The hotel-like bedrooms that Armstrong trainees called home during their stays in Lancaster were easily trans­formed into offices. High Construction handled the three-month remod­eling process that entailed adding two fire doors and enlarging the entryways into the rooms. In order to become ADA-compliant, they had to be widened by four inches. Frosted-glass doors replaced the originals. Desks and small conference tables replaced the bedroom furniture. Bathrooms and mini-kitchens were retained in most of the suites. The walls between several bedrooms were razed in order to create larger conference rooms and offices. Wall and floor coverings were in perfect condition and were retained, as was the ceiling tile. Lighting was upgraded, as well. As expansion warrants, the second floor can undergo a similar conversion.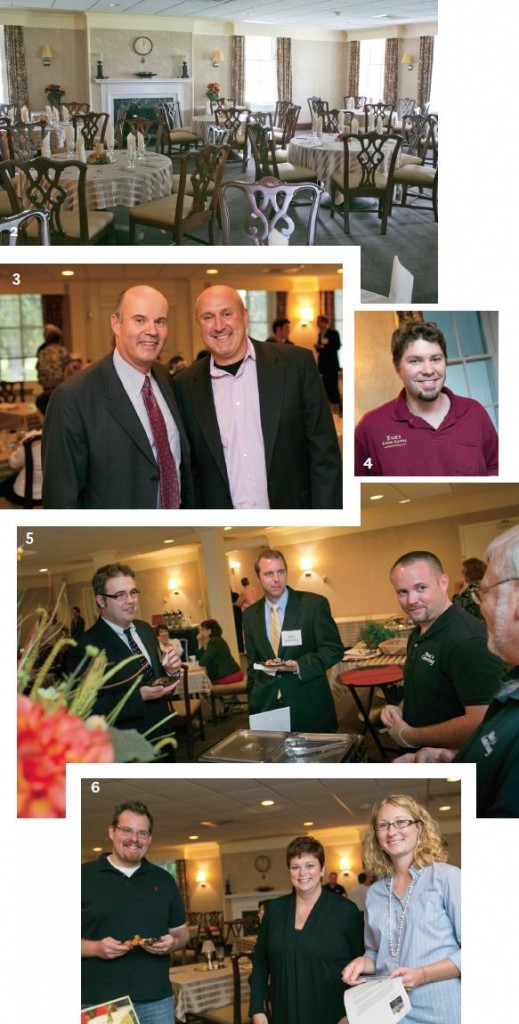 Acquiring the manor enabled Jessica to pursue a philan­thropic dream she had harbored for years. Her vision was to make the dining room, kitchen, conference room and lounge available to nonprofit organi­za­tions free of charge. "We've been involved in the chari­table community for a long time," Rick explains. "And, we've attended a lot of thank-you dinners. We always thought it was a shame that organi­za­tions had to spend money on those sorts of things." He adds: "We are guided by Luke 12:48: 'From everyone who has been given much, much will be demanded; and from the one who has been entrusted with much, much more will be asked.'"
Jessica's plan centered on allowing nonprofits to use the facility for such events as dinners, educa­tional seminars, training sessions and board retreats. Five catering firms – Acorn Farms, Enck's Catering, Food for Thought, Hess's Barbecue Catering and Plum Street Gourmet – have agreed to work with the facility on a cost-effective basis. Jessica even worked with Yorgey's & Filling's Fine Dry Cleaning to provide a discount on laundering the table linens.
In late September, Rodgers & Associates hosted an open house for Lancaster's nonprofits. The catering firms were on hand to provide a taste of what their menus have to offer. Approx­i­mately 70 repre­sen­ta­tives from nearly 40 nonprofit organi­za­tions attended. They obviously were impressed – Rick reports bookings are keeping The Manor very busy.
2. The dining room at The Manor can accom­modate 66 guests. Nonprofit organi­za­tions using the facility can work with the five catering firms that have agreed to make their services as cost-effective as possible.
3. Rick Rodgers (left) and Sam Bressi, president and CEO of the Lancaster County Community Foundation.
4. Kenny Enck was on hand to represent his family's catering firm.
5. Guests sample the offerings of Hess's Barbecue Catering.
6. John Elliott, Michelle Valeri-Groff of Food for Thought and Erin Elliott of the Boys & Girls Club of Lancaster.
Rodgers & Associates/The Manor is located at 2025 Lititz Pike in Lancaster. Visit Rodgers​-associates​.com/​l​o​cation.
This article origi­nally appeared in the December 2012 issue of Lancaster County magazine