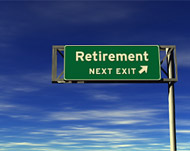 The transition from going to work each day to retirement is a difficult challenge that many people face. Financial issues are just one piece of the puzzle.
How will you spend your time? Will your retirement income be suffi­cient?
Working out the answers to these questions will make the shift from working to retirement much smoother. One year before you retire is a great time to assess your situation and make sure you will really be ready for that gold watch.
Here are six steps I think you need to consider before retiring.
Review your cash flow plan.
Calculate how much money you expect to spend each month after you retire. Be sure to include extras for large expenses that may occur only annually. Can you live on that amount? We recommend using the 12 months leading up to retirement as a practice run to really see if you've estimated your retirement spending correctly. Track spending accurately to determine if your monthly spending matches your estimate. Many people believe expenses will be signif­i­cantly lower after they retire. We have found the post-retirement spending level is usually the same as pre-retirement spending for the first 10 years.
Be debt free.
This would be the time to push to get rid of credit card debt and car loans. Hopefully you've been working to pay off your mortgage before you retire. Entering retirement debt free provides great piece-of-mind. You may want to adjust your retirement date if you need extra time to pay off the mortgage and being debt free is important to you. If you will be entering retirement with a mortgage balance, don't take a lump sum from your retirement plan to pay it off. The additional tax generated from a large withdrawal in one year is often more than several years of interest. Consider working out a plan with a financial adviser who can determine the best way to retire the mortgage quickly in a tax-efficient manner.
Review your retirement benefits.
Schedule a time to meet with the human resources manager to go over your company benefits. Will you have healthcare benefits as a retiree? Should you sign up for COBRA coverage? If your spouse is on your medical plan, will you be able to continue covering them as a retiree? Medical expenses can be a signif­icant factor when you retire. Make sure you know well in advance what costs you will be respon­sible for and what the company will cover. If you or your spouse is under age 65 you might want to review health insurance options available from Healthcare​.gov. Those 65 and older will need to enroll in Medicare. Medicare is complex, and coverage options can be confusing. Coverages are divided among Part A, B, C, and D, and enrollment dates differ depending on which part of Medicare you are enrolling in.
Take Social Security now or wait?
Age 66 is the full retirement age for most people looking to retire in 2015. You can still draw Social Security at age 62, but your benefit will be reduced by about 5%-9% for each month you retire before age 66. Many factors should be considered before you start drawing on your benefits. Married couples need to consider various options for maximizing their benefits. One spouse could file for benefits at their full retirement age and then suspend benefit payments so that their spouse can receive a spousal benefit while their additional retirement credits increase up to age 70. I devoted a chapter to Social Security benefits in my book, The New Three-Legged Stool: A Tax Efficient Approach to Retirement Planning. I recommend reading this chapter before making a decision.
Review your insur­ances.
You may no longer have a need for life insurance now that you've grown your assets and the house is paid off. However, long-term care insurance might be needed if you require an extended stay in a nursing home. Check with your agent about auto insurance discounts that might be available once you no longer need to drive to work each day. Defensive driving classes are available for drivers 55 and older. Successful completion of a driving class could earn additional auto insurance discounts.
Have a plan for keeping busy.
Finally, and maybe most impor­tantly, know what you are going to do with yourself when you no longer have to go to work. Don't retire with nothing to do. The life expectancy of people who retire and do nothing is not good. Do you have hobbies that you can spend more time with? Make some travel plans. Volunteer at a local charity you've always wanted to help. Make sure that you always have something scheduled that you can look forward to doing. Give yourself a reason to get up each day.
Rick's Tips:
Plan a trial run on your retirement budget one year before you retire to make sure you've forecasted your spending accurately.
Under­stand the retirement benefits your employer will provide and what you will need to shop for on your own.
Planning your schedule for the first year of retirement will help you adjust to a less struc­tured lifestyle.