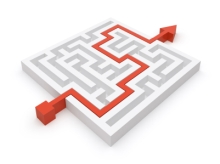 The year 2013 brings some new taxes for upper income taxpayers as well as a return of the higher tax rates from 2001. The American Taxpayer Relief Act of 2012 (ATRA12) restored the top tax rate of 39.6% for taxpayers with income over $400,000 ($450,000 for joint filers). Taxpayers in the $250,000 income level ($300,000 for joint filers) will face the loss of itemized deduc­tions known as Pease Limita­tions as well as the loss of their personal exemption (PEP). The Pease limitation poten­tially adds another 1.19% to the marginal tax rate. PEP can add as much as 1.05% per individual to the true rate, meaning a family of four can see a 4.2% hike in their marginal rate.
Unfor­tu­nately, restoration of old tax rates are in addition to the new taxes created in the 2010 healthcare reform. The Medicare surtax applies an additional tax of 3.8% to the lesser of net investment income (NII) or the excess of modified adjusted gross income (MAGI) over the threshold. Threshold levels are $200,000 for single taxpayers and $250,000 for joint filers.
NII subject to surtax generally includes interest and dividend income as well as capital gains from invest­ments. Distri­b­u­tions from nonqual­ified annuities are included but distri­b­u­tions from IRAs and qualified retirement plans are not. Tax-exempt municipal bonds and distri­b­u­tions from qualified annuities are also excluded. Further guidance from the IRS will be needed to clearly define passive and non-passive activities.
In order to minimize the impact of these tax increases you need to develop a plan and implement it as soon as possible. Healthcare reform and ATRA12 are permanent laws and making long-term strategies to reduce taxes is a prudent course of action. Over the next two weeks we will explore strategies to minimize the new tax increases.
9 Ways to Beat the Medicare Surtax
1.) Municipal bonds — The President had proposed taxing the interest paid on state and local bonds issued after 2012. The final version of ATRA12 contained no changes to the taxation of municipal bonds. This might be a good time to shake the dust off your tax-free investing books. If protecting income from taxation is a priority, a fresh look at the tax-free, municipal bond market may be your cup of tea. Municipal bond portfolios should be diver­sified by munic­i­pality and type – revenue and general oblig­ation. Pay attention to unfunded pension liabil­ities and what the munic­i­pality is doing (if anything) to address their pension problems. Munic­ipals make up only 10% of the U.S. bond market. It is also prudent to diversify outside of municipal bonds into corporate bonds and U.S. government agencies. The interest on corporate and government bonds is taxable, so they should be held in tax-deferred accounts when possible. Interest on municipal bonds is tax-free.
Municipal bond interest is not subject to the surtax. The surtax is based on MAGI and municipal bond interest is not used in the calcu­lation of MAGI. This could be a great time to switch to municipal bonds even with interest rates at historic lows. Demand for the bonds should increase as high income taxpayers look for ways to minimize the impact of ATRA12 and the surtax.
2.) Tax Loss Harvesting – Year-end tax planning generally includes reviewing currently held security positions trading below cost. To use the loss for tax purposes, the position must be sold, creating a realized loss. The technique of creating these losses for tax planning is called tax-loss harvesting.
A common mistake occurs when an investor sells a position to harvest the loss with the objective of buying back the same security. Tax laws require waiting 30 days before repur­chasing the same security. Failing to wait 30 days triggers the wash-sale rule, which disallows the loss for tax purposes. The investor sells the security, but the market rallies before the 30 days have passed. The investor can easily end up paying more to buy back the security than they will have saved in taxes.
Capital losses can be used to offset capital gains and reduce NII. If losses exceed gains, a taxpayer can take a $3,000 loss against other income and reduce MAGI. Any excess loss can be carried forward into future tax years. Tax-loss harvesting has the potential to create havoc with investment strategy. Always begin with your investment strategy in mind and harvest losses where an investment change could enhance your portfolio as well as your tax situation.
3.) Maximize Use of Retirement Accounts — Making contri­bu­tions to an employer sponsored plan is a great way for high income taxpayers to shelter income and reduce MAGI. Deferring income can save itemized deduc­tions subject to the Pease limita­tions and also avoids the 0.9% surtax which applies only to wages and self-employment income. Contri­bu­tions grow tax deferred inside the account and will not be subject to the surtax when distributed.
The IRS announced cost-of-living adjust­ments affecting dollar limita­tions for retirement-related plans in 2013. The elective deferral (contri­bution) limit for employees who partic­ipate in 401(k), 403(b), most 457 plans and the federal government's Thrift Savings Plan increased from $17,000 to $17,500. The catch-up contri­bution limit for employees aged 50 and over who partic­ipate in 401(k), 403(b), most 457 plans and the federal government's Thrift Savings Plan remained unchanged at $5,500.
Rick's Insights
Municipal bonds are tax-free, don't add to MAGI and are not subject to the 3.8% surtax.
Tax-loss harvesting reduces capital gains subject to the surtax and can help reduce MAGI.
Employer sponsored plans are still one of the best ways to reduce taxes and minimize the surtax.