Greg and Karen were a little overwhelmed when they inherited $500,000 from Greg's father. Greg had some experience investing up to that point. He picked the investments in their 401(k) plans and had bought the mutual funds in their IRAs. But, the inheritance was a lot of money and he didn't want to make a mistake. They were also in their 40s. The inheritance was the catalyst they needed to finally get a financial plan in writing and make sure they were on the right track. They needed a financial adviser to help them organize their finances and advise them on how to invest the inheritance.
After calling a couple of the companies that advertised financial planning, they made an appointment with an adviser to discuss their situation. The adviser proposed an investment plan for the inheritance and assured them they would be able to meet their goals. The inheritance was invested and Greg and Karen felt confident they had made the right decision.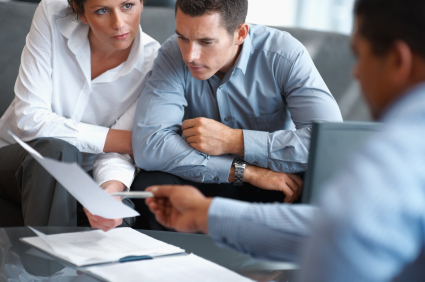 Months went by without any contact from the adviser. The brokerage statements came each month and the accounts seemed to be growing. Greg finally called the adviser after nearly a year went by and was assured that the investments were fine. The adviser even told him about a new fund that was coming out that they should consider. But, Greg was not as confident in this adviser as he had been at the beginning and decided not to invest anything else at this point.
The downturn in the financial markets during 2008 took its toll on Greg and Karen's investments. Their calls to the adviser always ended the same – the investments were fine and would bounce back when the market recovered. They scheduled a face-to-face meeting to update the plan, but left feeling it was nothing more than a pitch to invest more money. When they threatened to pull their money out of the investments, they learned there were significant penalties if they moved them. They often had wondered how their adviser got paid. The adviser earned commissions when they bought their investments. Those commissions would be recovered in the form of penalties if they pulled their money out too early.
Is your adviser on the 'sales' side or the 'advice' side?
Welcome to the world of financial services. The most common complaint I hear from people is, "I never hear from my adviser unless he/she wants to sell me something." If this sounds familiar, you are probably working with an adviser from the sales side of financial services, not from the advice side.
Financial services are governed by two different regulations in the United States. The Securities Act of 1933 regulates the sale of securities. The Exchange Act of 1934 regulates people who sell investments. Persons providing services under The Exchange Act are typically compensated through commissions earned on the investments they recommend and their official title is Registered Representative. Their job is to sell investments for the companies that employ them. Registered Representatives must adhere to the standard of suitability when recommending investments. They must ascertain relevant information from their prospective clients to assure the risk levels of the investments are suitable. They are not required to disclose how they will be paid or disclose conflicts of interest unless they are functioning as an Investment Advisory Representative, where they have a fiduciary duty.
The Investment Advisers Act of 1940 regulates companies and individuals providing investment advice. Persons providing services under this act are typically compensated on a fee-for-service basis. The firm's official title under this act is Registered Investment Adviser. Registered Investment Advisers are held to a fiduciary standard when providing advice. Their sole responsibility is to their clients, to whom they must act with undivided loyalty unless they disclose otherwise. Registered Investment Advisers are required to disclose their compensation in full, as well as any potential conflicts of interest.
Consumers may become frustrated when they are looking for an advice-based relationship and they end up with one based on sales. It is easy to see how this can happen when both call themselves "advisers." Here are a few questions to ask when hiring a financial adviser to help make sure you don't end up in a situation like Greg and Karen did.
Will you act as a fiduciary? Only Registered Investment Advisers are required to act as a fiduciary. A fiduciary must put the interests of his/her clients ahead of their own. Registered Representatives cannot make this commitment.
How will you be compensated? This is always a good question to ask no matter the circumstances. Registered Representatives can provide you with a commission schedule. A firm operating as a Registered Investment Adviser may charge fees based on account values, hourly fees or they may work on a retainer basis.
Ask for a copy of their form ADV Part II. This is the disclosure form that all Registered Investment Advisers are required to give to prospective clients. Part II includes information on an adviser's fees and investment strategies. Look for the answer to question 1C of the form, which discloses compensation. Schedule F of this form discloses conflicts of interest.
What credentials do you hold? I could write an entire article just on the alphabet soup that you will find on many advisers' business cards today. The only ones that carry weight for planning purposes, in my opinion, are: Certified Financial Planner® (CFP®), Chartered Financial Consultant (ChFC), and Personal Financial Specialist (PFS).
Now that you know what to ask, where do you begin looking? Referrals are generally your best source, but not necessarily from your friends and relatives. I recommend asking your other trusted professionals, like your accountant or attorney. These people are in a good position to hear who is competent and who should be avoided. They will have had experience working with several advisers through mutual clients. Ask who they would recommend working with.
There are also a couple of websites that can help you find an adviser in your area. Look for the adviser-locator tab at these websites:
AICPA's Personal Financial Planning Section
A good financial adviser can help you with every aspect of your financial life: savings, investments, insurance, taxes, retirement and estate planning, debt management, etc. Before you invest your money, invest your time in finding competent advice.
This article originally appeared in an issue of Lancaster County magazine