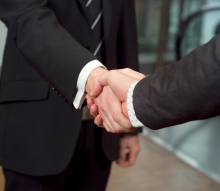 Fi•du•ci•ar•y – Wikipedia defines a fiduciary as "a legal or ethical relationship of trust between two or more parties. Typically, a fiduciary prudently takes care of money for another person. In a fiduciary relationship, one person, in a position of vulner­a­bility, justi­fiably vests confi­dence, good faith, reliance and trust in another whose aid, advice or protection is sought in some matter. In such a relation good conscience requires the fiduciary to act at all times for the sole benefit and interest of the one who trusts." Does this sound like the relationship you'd want to have with your financial adviser?
Regis­tered Investment Advisers (RIAs) have been around since 1940 and are regulated by the Securities and Exchange Commission (SEC) or state regulators. Most stock­brokers or other financial sales­people are Regis­tered Repre­sen­ta­tives and are primarily regulated by the Financial Industry Regulatory Authority – better known as FINRA. An RIA offers investment advice for a fee and generally is not paid on the sale or purchase of securities.
Many RIAs hold their client's assets with a third party custodian such as Fidelity, Schwab, Pershing, TD Ameri­trade, etc. In those cases the assets are overseen and managed by the financial adviser but the client's money is safely in the hands of a multi-billion dollar entity that is removed from his adviser. In other words, in those instances, a third party is providing a system of checks and balances separating the adviser from the client's money. You need to ask the question to see if your adviser is using a third party, independent custodian.
Most impor­tantly, an RIA is held to a fiduciary standard with their clients. As a fiduciary, the adviser is required to act with undivided loyalty to their client. This includes disclosure of how the adviser is to be compen­sated and whether conflicts of interest exist. Regis­tered Repre­sen­ta­tives are generally held to the lower standard of "suitability". The suitability standard means only that invest­ments made on behalf of the client must be suitable for the client when they are purchased.
Take for example an employed 45 year old saving for retirement. A risky and illiquid investment might be deemed "suitable" for this investor. If this same person loses his job five years later and is then in need of liquidity, an investment similar to this may no longer be "suitable" for his current financial situation. Many Regis­tered Repre­sen­ta­tives are under no oblig­ation to monitor their customer's financial situation to determine if invest­ments they hold are still appro­priate.
Under the fiduciary standard, the adviser would be respon­sible for monitoring its client's financial circum­stances to make sure their invest­ments are appro­priate for the current situation. The adviser may work from a financial plan which was created at the beginning of the relationship. The plan may clearly define goals and objec­tives and create inven­tories of the client's resources for achieving the goals. The plan is monitored and adjusted as circum­stances evolve and change.
A large segment of financial advisers do not want to be completely tied to a fiduciary standard and operate as a hybrid adviser often referred to as fee based (RIAs holding to the fiduciary standard are generally fee only). This adviser is dually regis­tered with FINRA and the SEC thus allowing them to provide both fee and commission based advice. The big plus for the adviser is that it can offer to handle a client's invest­ments for a fee yet still be able to sell them other invest­ments or services and earn commis­sions.
The best way to find out if a financial adviser will be acting as a fiduciary is to ask them up front, "Are you legally obligated to put my best interests ahead of yours?" "Will you be serving as my fiduciary at all times?" Part of your pre-interview research should include looking at the disclo­sures on the adviser's website and its marketing materials. Regis­tered Repre­sen­ta­tives and hybrid "fee based" advisers may disclose that "products and services offered by XYZ, a regis­tered broker-dealer and Member Securities Investor Protection Corpo­ration (SIPC)". During the interview, you should also ask for the adviser's Part 2 of Form ADV. This disclosure form will describe fees & compen­sation, what type of clients they work with, disci­plinary infor­mation, and conflicts of interest. Regis­tered Repre­sen­ta­tives may not have a Part 2 of Form ADV. Unfor­tu­nately hybrid advisers will have this form. Providing a Part 2 of Form ADV doesn't mean they will always act as a fiduciary when not acting in its advisory capacity.
Rick's Tips:
RIAs are held to a fiduciary standard of care. Regis­tered Repre­sen­ta­tives are held to the suitability standard.
Some advisers operate as hybrids with dual regis­tration and may be referred to as fee based advisers.
Ask a potential adviser if they will serve you as a fiduciary before hiring them.