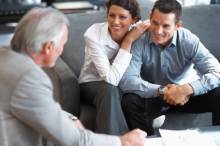 Would you be surprised to learn the financial services industry doesn't follow a uniform standard of care? The financial advice you receive from a bank, credit union, brokerage firm, or independent financial adviser varies. The difference between the two competing standards of care that advisers and brokers must adhere to has important impli­ca­tions for individuals who hire an adviser.
Regis­tered investment advisers are held to a fiduciary standard through the Investment Advisers Act of 1940. The Securities Exchange Commission (SEC) or state securities regulators hold advisers to a fiduciary standard that requires them to put their clients' interests above their own. This standard of care consists of a duty of loyalty and care, and simply means that the adviser must act in the best interest of his or her client, or disclose when it is not doing so. The adviser must do his or her best to make sure investment advice is made using accurate and complete infor­mation. Acting as a fiduciary requires avoiding conflicts of interest and disclosing any potential conflicts to placing the client's interests first. Fiduciary standard advisers seek best execution of clients' trades. This might include using due care when selecting trading venues and period­i­cally evalu­ating the quality of execution being provided.
Regis­tered repre­sen­ta­tives (brokers) only have to fulfill a suitability oblig­ation. The suitability standard only details that brokers have to reasonably believe that any recom­men­da­tions made to clients are suitable in terms of the client's financial needs, objec­tives, and unique circum­stances. The Financial Industry Regulatory Authority (FINRA) regulates brokers holding them to the suitability standard. FINRA considers suitability to include making sure trans­action costs are not excessive. An example would be excessive trading or churning the account simply to generate more commis­sions. Disclosing potential conflicts of interest is not as strict a requirement for brokers under the suitability standard. A key distinction between the two standards of care, in terms of loyalty, is that a broker's duty is to the broker-dealer he or she works for, not neces­sarily the client served.
The debate over the two standards of care has been ongoing for years. President Obama brought the issue into the national spotlight recently when he directed the Department of Labor (DOL) to move ahead with a proposal that would require all advisers to retirement accounts be held to the fiduciary standard.
The president believes current regula­tions are out of date because most retirement plans were in the form of tradi­tional pensions when the regula­tions were origi­nally written. Today, self-directed retirement accounts in the form of 401(k) and 403(b) plans are more common. The fiduciary standard is needed to protect small investors who are saving for retirement. The Obama admin­is­tration believes workers lose as much as $17 billion a year from conflicted advice[i]. Some in the financial services industry say there are suffi­cient regula­tions already in place under the Pension Protection Act of 2006, which are currently being enforced by the SEC and FINRA. These regula­tions require the disclosure of expenses and have reduced costs to retirement plans signif­i­cantly since they have been put into place.
Consid­ering the more strict require­ments of fiduciaries, there are few who will debate that the fiduciary standard is superior to the suitability standard when it comes to protecting investors. Overall, we believe it is best for investors to find an adviser who will place their interests above their own. An adviser has no choice but to fulfill this fiduciary duty, but the client may also be able to find brokers willing to adhere to this higher standard.
Even if the DOL proposal gets passed, it only applies to employer-sponsored retirement plans. How your adviser is regulated is less important than how he or she acts when they are giving you advice. See Choosing the Right Financial Adviser for a list of questions to ask when inter­viewing advisers. If you're already working with an adviser, have a conver­sation about fiduciary standards and conflicts of interest. A true profes­sional under­stands the need for trans­parency. Once you under­stand any potential conflicts, you can more accurately weigh the advice you receive.
Compen­sation for financial advice is another confusing area where clients will encounter fee-only and fee-based advisers. Fee-only advisers always operate under the fiduciary standard and don't accept fees or compen­sation based on product sales. Fee-only advisers can charge a one-time or ongoing fee, depending on the types of services they provide. The fees may be hourly, flat, or based upon a percentage of assets under management.
Fee-based advisers may charge fees for some services and accept commis­sions based on the products they sell. Most fee-based advisers hold licenses that allow them to sell invest­ments or insurance products for a commission. The standard of care being used can be confusing because the adviser may operate under a fiduciary standard for some of their advice and the suitability standard when working for commis­sions. The potential for confusion under­scores the impor­tance of under­standing the profes­sional sitting across from you and whether he or she is the best person to help with your financial decisions.
Rick's Tips:
The fiduciary standard of care requires advisers to put their clients' interests above their own.
The suitability standard of care requires brokers to reasonably believe their recom­men­da­tions are suitable in terms of their clients' financial needs, objec­tives, and unique circumstances.
Fee-based advisers may operate under a fiduciary standard for some of their advice and the suitability standard when working for commissions.
[i] Obama Calls for New Rules on Managing Invest­ments, USA Today, February 23, 2015