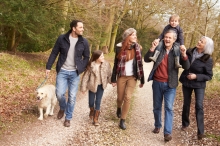 Financial planners do a good job of working with clients to develop an estate plan to effec­tively pass assets on to heirs. Minimizing taxes and making sure documents and benefi­ciary desig­na­tions are done properly is important so family wealth can pass to the next gener­ation. However, we all know family wealth is more than stocks and bonds and real estate. Every family contains a huge amount of wealth in their history, beliefs, and values.
Have you taken steps to ensure that your wealth is passed on to the next gener­ation?
The art of talking and story­telling has been pushed out of the way in the modern day of television and our fast paced lives. It wasn't too many gener­a­tions ago that the family story was passed along as families would get together to listen as the grand­parents shared stories from their youth. Life lessons were taught in these settings and personal values were shared. These stories served as teaching tools to illus­trate life events that shaped their beliefs. These lessons will be lost forever when the oldest gener­ation passes on, unless we take steps to save this valuable resource.
Plan Regular Family Meetings
An excellent way for families to commu­nicate is through regular family meetings. The meeting doesn't have to be held formally or on a set schedule. It can be scheduled to follow a family get-together. However it's best if the first family meeting does not occur after the death of an important family member. The meeting can cover family business, such as estate-planning issues, but there should also be time scheduled to share family history and legacy goals. The meeting can provide an oppor­tunity to develop relation­ships with open commu­ni­cation and trans­parency. This should not just be older members talking. It is also an oppor­tunity for the older family members to seek input and learn what dreams and goals younger family members have. Family meetings are an effective way to begin discus­sions of what role it plays in its community.
Make sure all family members partic­ipate and provide input. In family meetings, everyone should get used to working together. Don't let one person dominate the meeting. No one likes to feel like they've been lectured, especially by another member of their family. Create an atmos­phere where your family feels their interests and opinions are respected by others.
At the conclusion of the meeting, be sure to schedule the next session. You'll know if the first meeting was a success if people show up for the second meeting. It's a good idea to have some consis­tency so the family can gain momentum as it works through issues together. In the beginning, several family meetings per year may be needed in order to get caught up and develop good commu­ni­cation habits. Over time, an annual family meeting might be enough. There should an agenda for the meetings to make sure some goals are accom­plished, as well as time for deeper discus­sions.
Put Your Family's Plan In Writing
Another way to share this infor­mation is by putting it in writing. This process is also known as writing an ethical will. The ethical will is a document designed to pass ethical values from one gener­ation to the next. It is not a legal document and has nothing to do with distrib­uting material wealth. It is more of a legacy letter where you share your values, life lessons, and hopes and dreams for the future.
Some issues you may consider writing about are:
What were your life's goals and did you achieve them?
What were the most important lessons you learned from your parents? Grand­parents?
What does money and wealth mean to you?
Who were the most influ­ential people in your life and why?
Writing an ethical will can also be highly emotional and it may have to be set aside for a while before coming back to finish it. Think of it as a work in progress because you will probably want to come back and revise it from time to time.
Share Your Plan
The last step will be to decide who you want to share it with. Will you read it in a family meeting or keep in private to be read after you pass away? Be sure to keep it in a safe place and let your executor know it exists.
Your family history and life lessons are of great value. Be sure to share this resource with your family. You will find the process strengthens family ties and develops better commu­ni­cation.
Rick's Tips:
Every family contains a huge amount of wealth in their history, beliefs, and values.
Family meetings can deepen relation­ships and provide a forum for sharing life lessons.
Ethical wills are another way to share your values, hopes,and dreams for the future.