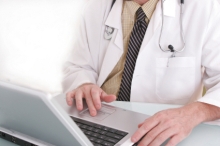 The IRS announced the inflation-adjusted deduction limita­tions for annual contri­bu­tions to health savings accounts (HSA) beginning in 2016 through Revenue Procedure 2015–30. HSA deduction limits are updated annually to reflect cost-of-living adjust­ments similar to retirement plan contri­bution limits.
The annual limitation on deduc­tions for an individual with single coverage under a high deductible health plan is $3,350 in 2016. An individual with family coverage under a high deductible health plan is allowed $6,750.
The defin­ition of a "high deductible health plan" (HDHP) in 2016 is one with an annual deductible that is not less than $1,300 for single coverage, or $2,600 for family coverage. Annual out-of-pocket expenses (including deductibles, co-payments and other amounts) do not exceed $6,550 for single coverage or $13,100 for family coverage.
HSAs were designed for saving money to cover health expenses that aren't covered by insurance. Many people use their HSA to cover copay­ments, deductibles, and other non-covered expenses. HSAs must be connected to an HDHP where the HSA helps patients cover the large deductible. The HDHP kicks in after the deductible is met to cover the more expensive health services like hospital stays.
An HSA has some important advan­tages over other ways of saving for healthcare costs:
Contri­bu­tions are pretax – Contri­bu­tions to an HSA are made before taxes are paid like a tradi­tional IRA or a 401(k) retirement plan. This makes it easier for a taxpayer to save because taxes aren't deducted before deposits are made to the HSA.
Deposits can carry from year-to-year – HSA contri­bu­tions roll over from one year to the next if they aren't needed for healthcare expenses. A flex spending account (FSA) must use all the money deposited each year or forfeit it. HSA funds can continue to build year after year if they aren't needed.
Investment choices – Balances in an HSA can be invested in mutual funds other financial instru­ments much like a 401(k). Investment options can help the account grow more quickly than in a tradi­tional savings account.
Tax-free withdrawals – Funds withdrawn from an HSA for approved medical expenses are not taxable. The pre-tax contri­bu­tions and any earnings while the money was inside the account are tax-free when the funds are used for appro­priate medical expenses. This makes an HSA an extremely efficient way to save money for health expenses when you have a HDHP.
HSAs are not perfect. There are some drawbacks to be aware of before entering into this type of health coverage:
HDHP requirement – The high deductible plan may not be comfortable for some people. Some may be reluctant to seek medical care because of the deductibles. Especially when someone is just getting started with an HSA and funds have not been able to build inside the account. Some people will not be comfortable with a HDHP or concerned about the taxes and penalties if the money was needed for another purpose.
Taxes and penalties – HSA withdrawals for non-medical use are taxable and subject to penalties when the account owner is under age 65. The penalties disappear at age 65 but a non-medical use withdrawal is still subject to taxes.
Contri­bution limits – In addition to the limits mentioned above, taxpayers over age 55 can make catchup contri­bu­tions of an additional $1,000 each year. Anyone who needs to set aside more than this for medical expenses will need to use a tradi­tional savings account without the tax benefits.
Investment limita­tions – HSA accounts must hold a minimum balance before account owners can invest. Typically a balance will need to remain in the account for potential medical expenses. Investment options are limited to the offerings of each plan much like a 401(k) account.
There is a strategy for using your HSA like a Roth IRA. Make the maximum contri­bution each year and invest the funds. Save your medical expense receipts, don't submit them for reimbursement from the HSA. The funds will grow tax-deferred inside the HSA and can be withdrawn tax-free in the future by submitting the old receipts for reimbursement. The strategy allows you to benefit from the long term untaxed growth in the account.
The IRS allows HSA account owners to defer to later years distri­b­u­tions from HSAs to reimburse qualified medical expenses, as long as the expenses were incurred after the HSA was estab­lished. There is no time limit on when the distri­b­ution must occur. However, to be excludable from gross income, the owner must keep records suffi­cient to show the distri­b­u­tions were exclu­sively to reimburse qualified medical expenses. Records must also show the qualified medical expenses have not been previ­ously paid or reimbursed from another source, or that they were taken as an itemized deduction in any prior taxable year.
An HSA can be an effective tool when you can use a lower-cost HDHP and still be able to cover the higher deductible if healthcare expenses come up. If you have lower medical needs one year, the leftover balance will roll over to the next year to be available in case your needs are higher at some time in the future. Only you can evaluate your own situation, the pros and cons, and decide if an HSA is right for you.
Rick's Tips:
HSA deduction limits are updated annually to reflect cost-of-living adjustments.
Contri­bu­tions to an HSA are tax deductible similar to tradi­tional IRA.
Withdrawals from an HSA for approved medical expenses are tax & penalty free.