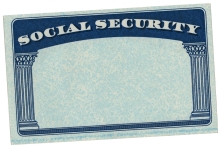 Do you remember the days of full employment back in the 1990s? The unemployment rate was so low that the government was worried about a shortage of workers. Seniors drawing Social Security benefits were limited in the amount of income they could earn without penal­izing their benefits until they reached age 70. In 2000 Congress passed the Senior Citizens Freedom to Work Act in an attempt to address both problems. The act elimi­nated the earned income limita­tions for a person drawing Social Security once they reached full retirement age. A senior could choose to work and continue to draw benefits or they could use a new concept called "voluntary suspension" of benefits. This would allow the senior to stop their Social Security payments and begin earning delayed retirement credits until they resumed taking benefits.
The new law's voluntary suspension rules also created some unintended conse­quences in the form of Social Security claiming strategies. Among these are the various "claim now, claim more later" techniques and the "File-and-Suspend" and "File-and-Restrict" strategies used by couples to boost the amount of Social Security they receive together. These strategies make use of claiming a spousal benefit (couples have some choices when claiming benefits in that when you claim social security you can select either your own benefit based on your earnings or your spousal benefit which is generally up to 50% of your spouse's benefit.)
The Social Security Admin­is­tration funded research[1] a few years ago to look at the cost of these planning strategies. Their research found that the "File-and-Suspend" and "File-and-Restrict" strategies could cost the system about $500 million per year if couples followed an optimal claiming strategy. The relatively small cost is because only a small percentage (27%) of current couples can benefit. Only couples where the higher-wage earner's earnings were far greater than that of the lower-wage earner benefited from the strategy. The use of the more expensive "claim now, claim more later" strategy costs the system another $9 billion per year. Therefore, the potential annual cost to Social Security for these strategies is $9.5 billion per year. The Obama Admin­is­tration targeted these strategies for elimi­nation calling them an "aggressive" move used by high-income house­holds to "manip­ulate" benefits.
The Bipar­tisan Budget Act of 2015 will effec­tively end these strategies for individuals who reach age 62 after December 31, 2015. Those who reach age 62 by year end will have until April 30, 2016 to employ the strategy. This will be helpful if your spouse is older and will be collecting benefits anyway. Between now and April 30, 2016 it will still be possible for an applicant to file for the spousal benefit (defined above) based on their spouse's suspended benefit if they meet the age requirement.
What is changing?
Restricted appli­ca­tions – Seniors will no longer be able to file for spousal-benefits-only at full retirement age while allowing their own retirement benefit to continue growing.
Suspension of benefits — There will no longer be the option to retroac­tively unsuspend benefits and receive a lump sum payment for the benefits you would have received since suspension.
Nobody else will be able to receive benefits based on your Social Security record while your benefits are suspended.
Seniors will still be allowed to suspend benefits at full retirement age. The original intent of the Senior Citizens Freedom to Work Act was to enable a person who has filed for benefits and later goes back to work or otherwise changes his mind to suspend the benefit and accumulate the 8% annual delayed credits to age 70.
The one year window to withdraw your Social Security appli­cation and pay back benefits is also unaffected. Repaying the benefits allows the retirement credits to begin accruing retroac­tively to the original filing date. Once more than a year has passed, you can still suspend benefits if you haven't reached age 70. Your benefits will be reduced for your early claiming, but suspending them can increase future benefits.
Anyone currently using the file and suspend strategy is grand­fa­thered under the old rules and is not impacted by the changes. Those seniors who are 65 ½ years old and who have a spouse who is at least as old, should consider taking advantage of the existing file and suspend strategy before the April 30th deadline.
Another option for someone reaching age 62 by year end with either a younger spouse currently between ages 61 ½ and 65 ½ or an older spouse between 65 ½ and 70 is to use the start-stop-start strategy:
The younger spouse collects early benefits.
The older spouse files for restricted spousal benefits before the deadline.
The older spouse switches to their benefits at age 70.
The younger spouse suspends their benefit when the older spouse is age 70.
Closing these so called "loopholes" won't fix the long-term sustain­ability problems of the Social Security system. The Budget bill changes are only estimated to reduce the Social Security deficit by about 0.02 percentage points. Hopefully Congress will build on this small step to make the bigger changes needed to make the system finan­cially sustainable for gener­a­tions to come.
Rick's Tips:
The popular "File-and-Suspend" and "File-and-Restrict" strategies for drawing Social Security benefits are going away in 2016.
Seniors will still be able to suspend benefits before age 70 allowing their retirement credits to resume growing.
Anyone currently using a "File-and-Suspend" or "File-and-Restrict" will not be affected.
[1] Under­standing Unusual Social Security Claiming Strategies, Alicia H. Munnell, Ph.D.; Alex Golub-Sass; and Nadia S. Karam­cheva, Ph.D, Journal of Financial Planning, August 2013