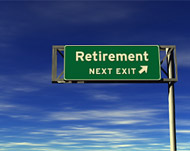 The Transamerica Center for Retirement Studies (TCRS) recently released their annual report "The Current State of Retirement: Pre-Retiree Expec­ta­tions and Retiree Realities". The report is prepared by TCRS, a nonprofit private foundation, in connection with Harris Polls. Inter­views are conducted with retirees and pre-retirees in an attempt to compare and contrast expec­ta­tions for retirement with reality. The report is partic­u­larly helpful during this time when the future of pensions is being debated.
The report found today's workers expect to work past age 65 with the median target retirement age being 67. This is an inter­esting contrast to retirees who fully retired at a median age of 62 (91%). Not only does today's worker plan to retire later, 54% say they plan to work part-time after retiring. This again is a huge contrast to those already retired where only 5% work part-time.
The notable aspect of this contrast is that 60% of the retirees were not planning to retire at the younger age. Almost 66% of them retired due to employment related changes such as a job loss, unhap­piness, or an early retiree incentive. Twenty- seven percent attributed their early retirement to health reasons and 11% cited family respon­si­bil­ities (becoming a caregiver). Only 16% retired earlier because they had reached their financial goals.
These findings under­score the impor­tance of having a backup plan for retirement. What would retirement look like if you had to retire five years earlier than your goal? Financial planning is about making smart decisions that balance enjoying life now with planning for the future. Job security, health issues and family respon­si­bil­ities need to be considered when contem­plating your timeline for future plans.
How retirees envisioned spending their time during retirement was also revealing.
Before retiring, their top dreams for what they would be doing in retirement were:
Traveling
Spending time with family and friends
Pursuing hobbies
After retiring, their retirement lifestyles are:
Spending time with family and friends
Pursuing hobbies
Traveling
Doing volunteer work
Taking care of their grand­children
Less than 5% started another career or a business.
Both retirees and pre-retirees agree that choosing where to retire is an important aspect of retirement. The most important criterion is an affordable cost of living and the second priority is proximity to family and friends. The majority of pre-retirees say their first choice would be to stay in their current home. Sixty-two percent of retirees have done just that. Only 34% have downsized citing reduced expenses as their main reason for doing so. Surpris­ingly only 5% moved to a retirement community.
The greatest fears among retirees are:
Declining health that requires long-term care
Social Security will cease to exist
The greatest fears among pre-retirees are:
Outliving their savings and invest­ments
They will not have access to affordable healthcare
Both retirees and pre-retirees share the concern of whether they have saved enough for retirement. Only 16% of retirees and 15% of pre-retirees believe they have saved enough. Sixty-one percent of current retirees cite Social Security as their primary source of retirement income. The median household income of retirees is $32,000. The median total of retirement savings was $225,000 among couples. Among pre-retirees the median retirement savings was $135,000 and their current median income is $71,000.
Today's workers will need to increase their savings if they hope to be able to replace their current level of income during retirement. Forty-two percent of current retirees have pension income. Today's workers are less likely to have pensions and will need to rely on 401(k)s, 403(b)s and IRAs through personal savings to supplement Social Security benefits. Workers should start by contributing at least the maximum amount their employer will match to their company retirement plan. Each year they should increase the percentage they save until they've reached the maximum contri­bution allowed.
One of the biggest mistakes workers make when planning for retirement is procras­ti­nation. Saving for retirement needs to be a priority, which sometimes means putting off other spending. Many who are just beginning their careers see retirement as a long-term goal and think they will have plenty of time to save. However, neglecting good saving strategies from the beginning can breed financial apathy. Pre-tax contri­bu­tions and tax-deferred growth through an employer plan can help savings to grow signif­i­cantly over time. Delaying partic­i­pation could cause you to miss out on matched contri­bu­tions and tax-deferred growth.
Retirement planning can seem overwhelming and it is a big challenge. However, starting early and saving system­at­i­cally can put you on a track for retirement success. A self-funded retirement will become more important in this age of declining pensions and an uncertain Social Security.
Rick's Tips:
Today's workers say they will retire later but many retirees have actually had to retire earlier than planned.
The greatest fear among retirees is declining health but among pre-retirees it is outliving their savings.
Today's workers will need to increase their rate of savings if they hope to retire with the same level of income they enjoy today.