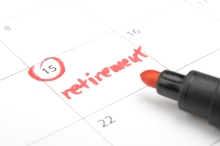 One year before you retire is a great time to assess your situation and make sure you will really be ready for that gold watch.
Here are some steps you need to consider before retiring:
Start with a budget.
You should already have calcu­lated how much money you will need each year in retirement. Can you live on that amount? We recommend using the 12 months leading up to retirement as a practice run to really see if you've estimated your retirement spending correctly. Track your spending accurately to determine if you are over spending. It's much better to find out now than after you've left your job.
Is your mortgage paid off?
This would be the time to push to get debt free. Use any extra cash to pay down the mortgage with the goal of having it paid off by your retirement date. You may want to adjust your retirement date if you need extra time to pay off the mortgage and being debt free is important to you.
Meet with your human resources manager to go over your benefits.
Will you have healthcare benefits as a retiree? Should you sign up for COBRA coverage? If your spouse is on your medical plan, will you be able to continue covering them as a retiree? Medical expenses can be a signif­icant factor when you retire. Make sure you know well in advance what costs you will be respon­sible for and what the company will cover. Be sure to ask how the new Patient Protection and Affordable Care Act will affect your company's benefits after retirement.
Sign up for Social Security or wait.
Full retirement age for most people looking to retire in 2011 will be age 66. You can still draw Social Security at age 62 but your benefit will be reduced by about 5/9% for each month you retire before age 66. There are many factors that should be considered before you start your benefits. I devoted a chapter to Social Security benefits in my retirement book, The New Three-Legged Stool: A Tax Efficient Approach to Retirement Planning. I recommend reading that chapter before deciding.
Have your other insur­ances reviewed.
You may not have a need for life insurance now that you've grown your assets and the house is paid off. However, long-term care insurance might be needed. Check with your agent about auto insurance discounts that might be available once you no longer need to drive to work each day.
Finally, and maybe most impor­tantly, know what you are going to do with yourself when you no longer have to go to work.
Don't retire with nothing to do. The life expectancy of people who retire and do nothing is not good. Do you have hobbies that you can spend more time with? Make some travel plans. Is there a charity that you want to help by spending some time volun­teering? Make sure that you always have something scheduled that you can look forward to doing. If you don't have a reason to get up each day, one day you won't.