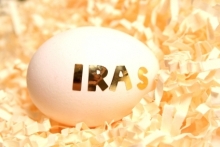 President Obama signed into law the Protecting Americans from Tax Hikes (PATH) Act of 2015 on December 18th. The new law extended over 50 expired provi­sions of the tax code. Among these provi­sions was the restoration of QCDs (Qualified Chari­table Distri­b­u­tions) that allows IRA owners over age 70 ½ to give IRA funds directly to charity without having to include them in income. It had become almost a holiday tradition for many IRA owners to wait for Congress to act on this provision. In 2013, Congress didn't extend the provision until after midnight on December 31st. The game of "wait and see" is finally over as this bill makes the provision permanent. At least as permanent as anything ever is in the tax code. The provision is restored retroac­tively to January 1, 2015. If you made a QCD earlier in 2015 hoping Congress would come through again, that distri­b­ution has become a valid QCD.
IRA owners over age 70 ½ who are chari­table will not have to procras­tinate taking their required minimum distri­b­ution (RMD) in 2016. The ability to give directly to a charity and avoid reporting the income on their tax return is a huge advantage to taxpayers who don't itemize deduc­tions. Chari­table contri­bu­tions don't save income taxes unless you itemize. A QCD saves income tax because the amount of the contri­bution is not shown as income. Lowering income can also help reduce the taxable amount of Social Security benefits and reduce the amount of the Medicare Surtax for taxpayers with higher incomes.
The distri­b­ution must go directly from your IRA custodian to the charity in order to qualify as a QCD. The charity needs to acknowledge the gift for your records. The taxpayer reports the gross amount of their distri­b­ution on line 15a of Tax Form 1040 but carries over only the taxable amount to line 15b. If the entire distri­b­ution went to the charity, this number will be zero. Write "QCD" next to line 15b to further identify the transaction.
The legis­lation also included some other financial planning provi­sions that are worth noting:
SIMPLE IRA porta­bility – Contri­bu­tions to a SIMPLE IRA have a two-year holding period beginning when funds are first deposited. During this period the funds can only be rolled over to another SIMPLE IRA. No other retirement account is subject to the same restric­tions. The new law allows taxpayers to roll any other eligible retirement funds into the SIMPLE IRA after the two-year period has passed. This will be helpful for taxpayers wishing to consol­idate accounts.
Computers for education – Congress has finally realized college students need a computer. The bill included a provision desig­nating the purchase of a computer as a qualified education expense along with peripheral equipment, software and even internet access expenses. Students will now be able to purchase these items with funds from their 529 account. Another 529 enhancement is the ability to put certain tuition refunds back into the 529 plan, if the transfer is made within 60 days.
ABLE Accounts enhancement – The new Achieving a Better Life Experience (ABLE) Act created in 2014 acts like a 529 tax-preferred account for certain disabled individuals. The original law specified that ABLE accounts could only be opened in the account beneficiary's (disabled person's) state of residency. Some states have been slow to set up ABLE accounts so the new bill elimi­nates the state of residency requirement. You will now be able to set up an ABLE account in a state with the accounts regardless of the beneficiary's residence. However, the rule remains that only one ABLE account can be estab­lished for their benefit. The annual ABLE account contri­bution limitation is the annual gift tax exclusion — $14,000 for 2016.
Deduction of sales taxes in lieu of income taxes – The provision allowing taxpayers to take an itemized deduction for either state income tax or state sales tax has been made permanent. This is especially important for taxpayers who live in a state that doesn't have an income tax.
American oppor­tunity credit – The American Oppor­tunity Credit replaced the Hope Educa­tional Assis­tance Credit under the American Taxpayer Relief Act of 2012. The credit was increased to $2,500 from $1,800 and up to 40 percent of the credit was made refundable. The credit was set to expire in 2017 but has been made permanent under the new law.
Tuition and fees deduction — This deduction reduces taxable income by up to $4,000 and is generally the best option for those who don't qualify for the American Oppor­tunity Credit. The deduction is taken on the front of the tax return so it can be used by taxpayers who don't itemize. This provision was not made permanent but was extended through the end of 2016.
Rick Tips:
QCDs (Qualified Chari­table Distri­b­u­tions) are now a permanent part of the tax code.
Taxpayers taking the standard deduction receive no tax benefit from chari­table gifts unless they are made through a QCD.
QCDs lower adjusted gross income (AGI) which affects taxation of Social Security benefits and certain itemized deduc­tions that are reduced by AGI.