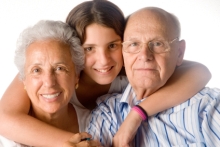 The beginning of a new year is the time we all look for a fresh start. That's why we make resolu­tions in hope our fresh start will carry through all year long. Getting our finances in order is one of those popular resolu­tions. There are so many parts to our financial lives it's hard to pick a spot to begin. Let me suggest a review of life insurance.
Life insurance is one of those financial neces­sities people often take out when they're young. We realize insurance is needed to take care of our depen­dents and loved ones so they are finan­cially protected if something happens to us. Insurance proceeds can be used to pay ongoing expenses, educate our children, pay off the home mortgage and cover funeral expenses or other outstanding debts.
Life insurance can be a very complex financial tool with many variables. However, most policies fall into two main categories:
Term Insurance: Term policies provide temporary coverage for a fixed time period – usually 10 or 15 years but they can be written for longer periods. The policy benefits are paid out if the insured person dies during the insurance period. The policy has no cash value accumu­lation and simply ends at the end of the period unless it is renewed.
Permanent Insurance: There are several varia­tions of permanent policies which are commonly known as whole life, universal life and variable life. These policies build cash value as premiums are paid. Most policies allow the owner to borrow against the cash value. Premiums are typically more expensive than term insurance policies. The higher premiums allow the cash value to build and offset the increasing cost of life insurance as the insured person gets older.
The three types of permanent insurance:
Whole life insurance – This type of policy has a fixed premium payment and builds cash value with a guaranteed minimum rate of return and a guaranteed cost of insurance.
Universal life insurance – This policy has a flexible premium and provides the owner the option of adjusting the death benefit and varying the premium payment within certain limits. Each contract will define the amount the death benefit can be increased or decreased without having to prove insur­a­bility or buy a new contract.
Variable life insurance – This policy is similar to universal life with the added feature of being able to direct the investment of the accumu­lating cash value. It is a form of permanent insurance but the sustain­ability of the policy will depend greatly on the investment return. The policy owner bears the financial risk of poor investment returns which may result in the loss of its cash value.
The first place to start your life insurance is to determine whether you still need life insurance coverage. The reasons you origi­nally purchased life insurance may have already passed – the house is paid for, the children are through college, a suffi­cient asset base has been accumu­lated, etc.
There are several options to consider for reposi­tioning life insurance after it is no longer needed. In the case of term insurance, you simply cancel the policy. There is no cash value and therefore no tax impli­ca­tions. If your insurance review reveals the ongoing need for life insurance you should look into the options available to convert the term policy to permanent insurance.
A permanent insurance policy that is no longer needed presents several options to be carefully considered. Start by contacting your insurance agent or the life insurance company to determine your options. Generally most policies offer the option of exchanging the existing policy for one that is "paid-up". A paid-up policy continues coverage with a smaller death benefit but no more premium payments.
Cashing in the policy termi­nates coverage and could result in taxable income. Taxable cash value is deter­mined by subtracting the premiums paid for insurance from the total cash value. Cash withdrawals or policy dividends used to pay premiums will affect the taxable income amount. Your agent can provide an exact amount of taxable income before you decide to cash in the policy.
A sizeable tax liability may make exchanging the life insurance policy for an annuity a better option. A technique known as a 1035 exchange allows the owner of a life insurance policy to convert it to an annuity without creating a taxable event. An annuity has no death benefit and no premium require­ments. The conversion is not taxable but withdrawals are taxable to the same extent they would have been from the cash value.
Your final decision regarding your life insurance coverage should be considered in context with your long-term financial plan. Start the New Year off on sound financial footing by reviewing your plan and what role life insurance should play in meeting your goals.
Rick's Tips:
The need for life insurance changes as a family's wealth grows and assets are accumulated.
Life insurance generally comes in two forms: term insurance and permanent insurance.
Options should be considered carefully before permanent insurance is cancelled to avoid unexpected tax consequences.