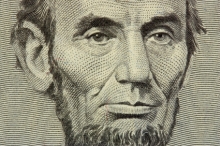 This summer Gettysburg celebrated the 150th anniversary of one of the greatest battles in the Civil War. The battle has been called the turning point of the Civil War and was followed four months later by one of the most memorable speeches in American history – The Gettysburg Address. President Lincoln delivered the speech at the Conse­cration of the National Cemetery at Gettysburg on November 19th, 1863. It was one of the most notable aspects of Abraham Lincoln's life.
From a financial planner's perspective President Lincoln's death is notable for another fact. Despite being a lawyer most of his life, he died without a will. Lincoln's oldest son Robert contacted Supreme Court Justice David Davis, who was a close family friend, and asked him to take charge of his father's affairs. Justice Davis asked the Judge of Sangamon County Court in Illinois to appoint him the admin­is­trator of Lincoln's estate.
Lincoln's estate was initially estimated to be worth $85,000 according to court documents. It's hard to say what inflation would have done to that amount today since CPI records only go back to 1913. Using a simple 2% rate of inflation the estate would be equal to $1.6 million in today dollars; a healthy sum to be divided equally between Lincoln's widow and two surviving sons.
Estate laws have not changed much over the past 150 years. When you die intestate, meaning without a will, your estate will be divided according to the laws of the state in which you reside. The state will decide how your property is to be distributed. Most states generally distribute estates according to the following rules with some varia­tions:
If you have no children, your spouse will receive your property.
Your spouse receives half your property, if you leave one child or children of one deceased child.
Your spouse receives one-third of your property if you leave two or more children, or one child and descen­dants of one or more deceased children.
If you are not married and have no children living or deceased, your property will generally be distributed to the following people, in this order:
Your parents
Your brothers and sisters or, if they are not alive, their children
Your grand­parents or, if they are not alive, their children (i.e., your uncles and aunts)
The children of your deceased spouse
Any relatives of your deceased spouse
The state of your legal residence
Lincoln's estate eventually settled two years after his death in 1867, with a final value of $110,296.80 after his unpaid debts of $38.31. His widow could have received an additional cash allowance as the surviving spouse but she declined the allowance. Justice David Davis declined the customary fee permitted by law for his services. He even declined reimbursement for his expenses. He handled the estate admin­is­tration on his own, without hiring an attorney, contrary to customary procedure. This was extremely generous consid­ering the task for a sitting Supreme Court Justice to admin­ister that large of an estate in rural Illinois.
It's surprising that even by age 54, Abraham Lincoln, esteemed lawyer and father of four, never took the time to make out a will. This too has not changed much in 150 years. Two-thirds of adult Americans are estimated to be without a will. Many people mistakenly assume if they die, their spouses will automat­i­cally inherit every­thing. That's simply not the case.
It's shocking how many people don't take the time to write a will to make sure their families are taken care of when they die. Not only does the state get to make this decision, but family fights could tie up your estate in probate court causing expenses and delays; even if your family has a Supreme Court Justice willing to step in and help out.
Careful estate planning will go a long way towards assuring your assets are distributed to the benefi­ciaries you want to receive your assets. Lincoln may have thought he had plenty of time to write a will the night he left for Ford's theater. As we celebrate the 150th anniversary of the battle of Gettysburg, let's use the occasion as a reminder to make sure we have our own estates in order.
Note: The Abraham Lincoln Associ­ation contains a detailed recitation of how his estate was handled. In addition to the estate settlement mentioned above, the US Congress voted to give Mary Todd Lincoln an amount equal to one year of Lincoln's salary as President (about $25,000). The money was considered to be a tax-free donation of salary and was therefore not part of the final estate.
Rick's Insights:
Your spouse does not automat­i­cally receive 100% of your estate if you die without a will.
Dying without a will is called dying intestate. Your state of residence has final say on how your estate will be distributed.
Preparing a will is an inexpensive was to assure your final affairs are handled according to your wishes.