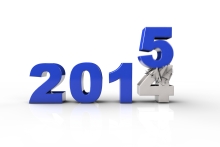 January is a good time to reflect on your financial situation and set goals for the New Year. Let's begin the year by reviewing some important changes that may affect financial planning in 2015.
MyRA
The new myRA will offer another option for savers without an employer-sponsored retirement plan. The new plan hasn't received a lot of coverage since President Obama first mentioned it during his State of the Union message last January.
The myRA works like a Roth IRA for lower- to middle-income taxpayers. The employee contributes money after tax through payroll deduction and it grows in the account tax free. The account balance in a myRA cannot lose principal, because contributions are invested in Treasury securities backed by the full faith and credit of the United States government.
Single taxpayers earning up to $129,000 and joint filers earning up to $191,000 are eligible to contribute a maximum of $5,500 a year ($6,500 for those age 50 or older). The myRA account balance must be moved to a Roth IRA when the balance reaches $15,000.
FSAs
Health Flexible Spending Accounts (FSAs) allow an employee to save pre-tax dollars to pay for healthcare expenses. Until now, the money saved must be used within the tax year or the excess is forfeited. A change was made in 2013 allowing the employee to roll over $500 from a FSA into the next plan year.
Another change is coming in 2015 – if you carry over $500 into 2015 from your FSA, you will be ineligible to participate in a Health Savings Account (HSA) in 2015. This change does not apply to specific use FSAs, such as dependent care or dental expenses. You might need to plan ahead based on this new restriction.
IRA Rollovers
Starting in 2015 you can only make one rollover from an IRA to another IRA in a 12-month period. This change was brought about by a tax court ruling I wrote about last May. A rollover happens when you withdraw funds from one IRA, hold the funds for fewer than 60 days, and then deposit them into another IRA account. Transferring your IRA from one custodian to another is not a rollover.
Taxpayers are still permitted to transfer their IRA as often as they like, as long as they don't take possession of the money. Once you take possession, it becomes a rollover and you are only allowed one rollover in a 12-month period. Exceeding this limit will subject the amount withdrawn to taxes and potentially a 10% early withdrawal penalty. Plus, any funds involved in the rollover cannot go back into an IRA. A 6% excise tax will apply to any amounts that exceed the contribution limit.
Tax Penalty for Not Having Health Insurance
Taxpayers who do not qualify for exemption will be charged a tax penalty if they failed to obtain the minimum healthcare insurance by March 31, 2014. Minimum insurance can be purchased through the Marketplace. Your employer's health insurance (including COBRA) qualifies, as does Medicare, Medicaid, TRICARE, veterans' health care programs, and several others.
Anyone without coverage will be subject to a tax penalty, which varies depending on income and number of family members. Starting in 2015, the penalty is the higher of 2% of the taxpayer's annual income above the tax filing threshold or $325 per adult and $162.50 per child. There is a maximum penalty equal to the national average premium for a "bronze" health plan based on the income method. The maximum penalty for a family is $975 under the "per person" method. The penalty amounts will increase in 2016.
New IRS Forms
Taxpayers will begin receiving the new IRS form 1095A to report medical insurance coverage in 2015. Taxpayers who obtained their health insurance through a federal or state exchange will receive the new form in the mail by January 31, 2015. The form is needed to calculate the Premium Tax Credit if the taxpayer received assistance in paying for health insurance premiums.
Form 1095A will show:
Advance premium tax credit received to help pay for their monthly premiums. Part III of the form shows assistance by month along with the total for the year. This information is required to complete form 8962 (Premium Tax Credit).
Health insurance coverage listing of all members of the household who were covered.
Form 8962 is also new in 2015, and will be used by taxpayers who are eligible for the premium tax credit. Most taxpayers likely claimed the credit in advance to help pay premiums. Form 8962 will reconcile the calculated premium credit based on actual income earned in 2014. Reconciliation will be done in three steps:
Calculate actual premium tax credit based on the taxpayer's 2014 income and family size.
Record any premium tax credit advanced.
Subtract advanced premium tax credit from the calculated premium tax credit to determine if additional credit is due or some of the advanced credit must be recaptured.
Rick's Tips:
The new myRA is basically a starter Roth IRA for employees not covered by a retirement plan at work.
You are allowed to carry over some of your FSA money into 2015, but doing so might prevent you from participating in a HSA this year.
Be aware that the IRS has a few new filing requirements for taxpayers using tax credits to buy healthcare insurance on the exchanges.