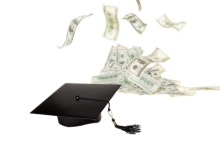 One bright spot to emerge from the 2008-2009 recession has been the improvement in consumer debt. Household debt payments as a percentage of disposable personal income fell from a high of 14% in the third quarter of 2007 to a recent low of 10.5% this year. The only area of consumer debt to increase during this period was student loans. A report published in June by the Urban Institute shows consumers are struggling to meet the loan payments.
The report found that one-fifth of adults over age 20 carry student loan debt and it includes people across all income levels. One-third of people with at least $100,000 in household income said they were concerned about being able to pay back student debt. Equifax reports the average size of a student loan was $6,242 in March 2013, up 11% over the prior year. They also show the number of student loans increased to 126 million over the trailing 12 months ending May 2013.
Subsidized Stafford loans were capped at a 3.4% interest rate since 2007. Those rates increased on July 1st after Congress failed to agree on an alternative plan. Stafford loans are also backed by the government, which means if a student defaults the lender still gets paid. The maximum amount of Stafford loans an undergrad can borrow is $31,000, of which the subsidized maximum is $23,000. Without a compromise, rates on student loans doubled to 6.8%. The new rate only applies to subsidized loans under the federal Stafford loan program. Other federal loan programs, as well as private lending, are unaffected. No surprise, as unsubsidized Stafford loans were already at 6.8%.
The best way to manage student loan debt is not to borrow money in the first place. The College Board reported the cost of a "moderate" college budget for an in-state public college averaged $22,261 last year. This means a 4-year degree will push $100,000 when all costs are considered. It may seem impossible for many people to be able to do this without debt. However, there are some creative ways to get a degree so you don't leave school with a diploma and a huge debt burden.
Grants & Scholarships – Grants & scholarships are gifts of money that does not need to be paid back. Scholarships given by colleges are the most common. Check out a college's website, catalog and financial aid materials for information on the scholarships it offers. A high school counselor or principal is a good resource for local scholarships available to students who are residents of your town, county and state. Also look online and in the public library for information on local scholarships. There are also many state and national scholarships. The College Board's Scholarship Search collects information on thousands of awards. The service is available for free online and matches the details you submit with scholarship guidelines and then presents you with a list of possibilities to choose from.
Accelerate Your Degree – Accelerated classes cover the same amount of material as a traditional semester-long class in a much shorter period of time. College courses are usually charged on a per credit hour basis so tuition costs may be essentially the same. The savings taking accelerated courses in a traditional college setting comes from the reduction in living expenses. Completing their degree quickly with accelerated courses helps save the cost of room and board, along with other fees associated with living on campus. Moving up the graduation date will help land a diploma with a lower price tag.
Start Locally – Many community colleges have agreements to ensure students' credits will transfer to a four-year school. This allows a student to earn credits at a less expensive college or university and then transfer to a more prestigious university to complete their degree. The cost of tuition at community college is often significantly lower. Additional savings can be obtained on room and board if you commute to school from home.
Attend Tuition Free – It may be hard to believe but there are more than a dozen colleges offering free tuition to all students. While there is no cost for tuition, the colleges do charge for room and board and there are other incidentals. The catch – many of these colleges require all students to work. These programs are highly competitive so it may be necessary to make your case for why you would be a valuable addition to their campus. The Smart Student Guide to Financial Aid publishes a list of tuition free schools on line.
Loan Forgiveness – Under certain circumstances, the government will cancel all or part of an educational loan. There are four areas to qualify, 1) Perform volunteer work; 2) Perform military service; 3) Teach or practice medicine in certain types of communities; 4) Meet other criteria specified by the forgiveness program. The Smart Student Guide to Financial Aid also publishes a list of volunteer organizations offering loan forgiveness programs.
The best way to cover the cost of a college education is to start early and save often. Open a savings account for your children when they are born and save regularly. Encourage grandparents and siblings to contribute to the account. Invest the money early and allow compounding to help cover the cost of their education.
Rick's Tips:
Student loan debt has increased over the past four years while other consumer debt has dropped.
The average cost of a four-year degree at a moderately priced college is nearly $100,000.
Procrastination is the biggest enemy of savings. Start early and save often to avoid leaving college with a huge debt burden.