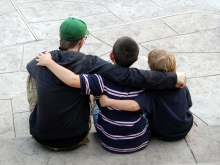 Congress passed the Achieving a Better Life Experience (ABLE) Act of 2014 in late December allowing people with disabilities and their families the opportunity to create a tax-exempt savings account that can be used for maintaining health, independence and quality of life. Income earned by the accounts will not be taxed. It has been called the most significant disabilities legislation since the Americans With Disabilities Act of 1990. The accounts will be housed under Section 529 of the Internal Revenue Code but will offer broader coverage than 529 education savings plans.
It's too soon to know exactly how the ABLE will help families secure better financial futures for children with disabilities. ABLE accounts can't be set up or funded until the U.S. Department of Treasury establishes rules sometime later in 2015. A big advantage of establishing ABLE savings is their impact on the participant's eligibility for SSI (Supplemental Security Income), Medicaid and other public benefits. An account balance of up to $100,000 won't impact the beneficiary's eligibility for SSI benefits. That's a significant change from the last 25 years, when individuals with more than $2,000 in assets in their name lost eligibility.
The ABLE Act limits eligibility to individuals with significant disabilities with an age of onset of disability before turning 26 years of age. You need not be under the age of 26 to be eligible for an ABLE account. You could be over the age of 26, but must have the documentation of disability that indicates age of onset before the age of 26.
Once an ABLE account is established in the beneficiary's name, anyone can contribute to it. The beneficiary, a family member or another individual on the account can control it. The total annual contribution by all participating individuals, including family and friends, is $14,000. The amount will be adjusted annually for inflation. Contributions to the account made by any person (the account beneficiary, family and friends) are not tax deductible.
ABLE accounts allow families to set aside funding for disability-related expenses with private savings that will supplement benefits provided through private insurance, Medicaid, SSI, the beneficiary's employment and other sources. However, an ABLE account can't cover all the financial burdens those with disabilities face during their entire lifetime. The new accounts won't replace the required special needs trust. Special needs trusts are more complicated to establish and more strictly regulated, does not limit contribution amounts or allowable expenditures.
Distributions from ABLE accounts are tax-free if they are used for a "qualified disability expense". These include education, housing, transportation, and other expenses which will be further described in regulations to be developed in 2015 by the Treasury Department.
Each state is responsible for establishing and operating an ABLE program which will work much like 529 College Savings plans. No accounts can be established until the regulations are finalized. States are expected to begin accepting applications to establish ABLE accounts before the end of 2015. The final rules will most likely vary from state to state just as Medicaid benefits often vary. At this point, it's unclear what kind of freedom the federal government will allow states to finalize rules.
This law is an important step forward for a person with special needs to be able to have more than $2,000 without losing eligibility for other benefits. Assets in ABLE accounts must be used to repay Medicaid expenses upon the death of the participant just like other first-party trusts. Families should plan to exhaust ABLE accounts for expenses first before using funds from third-party trusts, which are not subject to state recovery. Third-party trusts are often funded by life insurance. First-party trusts are typically established when a family member inadvertently leaves money directly to the disabled child or the child received a payout from a court settlement.
Families should watch closely for final regulations to see if ABLE accounts make sense to incorporate into their current special needs arrangements. It has been anticipated that states may allow existing 529 education savings account assets be transferred to an ABLE account. This would help parents avoid the stress of opening a 529 education savings account for a special needs child and then having to transfer the balance to a sibling or be penalized for using it to fund non-educational expenses if the child is unable to attend college.
Rick's Tips:
ABLE accounts are considered to be the most significant disabilities legislation since the Americans With Disabilities Act of 1990.
Contributions to ABLE accounts made by any person are not tax deductible.
Earnings inside ABLE accounts grow tax deferred and are distributed tax-free free if they are used for a "qualified disability expense".