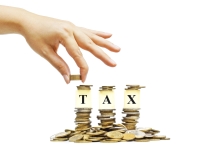 The weak stock market in September and October might have made you frown when you looked at your statements. After several back-to-back years of positive returns, a correction was bound to happen at some point. The pull-back could not have happened at a better time from a tax standpoint. A portfolio review is an important part of year-end tax planning. Taxes may not be the most important driver of investment decisions, but they should be a consideration.
Start by reviewing your realized capital gains year-to-date. Long-term capital gains (positions held 12 months or more) are taxed at 0% for taxpayers in the 10% or 15% tax bracket. The gain is taxed at 15% once the taxpayer enters the 25% bracket, which starts at taxable income of $36,900 for singles and $73,800 for couples. If long-term gains all fall in the 15% tax bracket, you don't need to harvest losses for tax purposes. In fact, you may want to look at harvesting gains to maximize the 15% income bracket.
Be cautious when buying mutual funds as replacement investments. Many funds pay out capital gain distributions during the last two months of the year. You will owe tax on capital gain distributions paid to you even though you didn't own the fund long enough to have a gain. Mutual funds post dividend payment estimates and payment dates on their website. Be sure to check this information to time your purchase of the fund after the dividend record date. You should also check the mutual funds you currently own to see if large distributions are planned. If the planned distribution is larger than your actual gain, you may want to consider selling out of the fund before the dividend record date.
Limiting your exposure to the 3.8% Medicare surtax should be an important consideration for your 2014 tax planning. This tax began in 2013 as part of The Patient Protection and Affordable Care Act of 2010 (ACA). The tax applies to net investment income for singles with adjusted gross income (AGI) over $200,000 and couples over $250,000. The tax is due on investment income, which includes interest, dividends, capital gains, passive rental income, annuities, and royalties. Tax-free interest from municipal bonds is not subject to the tax. Harvesting losses can help reduce the tax. Maximizing 401(k) and 403(b) contributions can help lower AGI and potentially reduce the tax.
The ACA also made an important change to itemized deductions. Taxpayers who itemize large medical expenses will see a significant reduction, unless they are age 65 or older. The threshold on deductible medical expenses is 10% of adjusted gross income in 2014. It remains at 7½% for taxpayers 65 or older until 2017. You should consider deferring medical expenses into 2015 if you are 64 this year.
Several temporary tax provisions expired at the end of 2013 – the state and local sales tax deduction, the higher education tuition deduction, and the qualified charitable distribution (QCD) from IRAs – are a few of these expired provisions. Congress attempted to extend some of these provisions during the year, but a law has not been passed at the time of this newsletter. However, there is a good chance that Congress will extend these provisions before the end of 2014. Charitable-minded taxpayers may want to delay taking their required minimum distribution as long as possible to see if the QCD is restored.
Year-end tax planning should always include a review of your IRAs in order to determine whether long-term tax savings can be accomplished through Roth conversions. When a traditional IRA is converted to a Roth IRA, tax is due on the converted amount in the year of conversion. Consider Roth conversions in tax years when you will have low income from other taxable sources. Do partial conversions to maximize tax savings. Over time, well-planned Roth conversions will minimize required minimum distributions at age 70½ and provide a tax-free source of funds when needed for large purchases.
Tax planning is not just about paying less tax this year. Paying taxes now is not necessarily bad when you control the amount to minimize the rate of tax paid. Tax rates might or might not be lower in the future. A smart overall tax strategy should defer some, but not all, tax liability to avoid the risk of paying tax at a higher rate in the future.
Rick's Tips:
Downturns in the stock market can create an opportunity to minimize income taxes.
Congress might still act to extend expired tax provisions before the end of the year. Check which provisions might affect you.
Long-term tax planning can include accelerating income in order to pay tax at a lower rate this year.