Many people are wondering if this is the right time to invest in real estate. Average home prices are still down significantly from their peak in 2005. The national average interest rate for a 30-year fixed rate mortgage was 4.87% according to Bankrate.com which is close to a 40 year low. The combination of low interest rates and home prices make home ownership easier than it has been in a generation.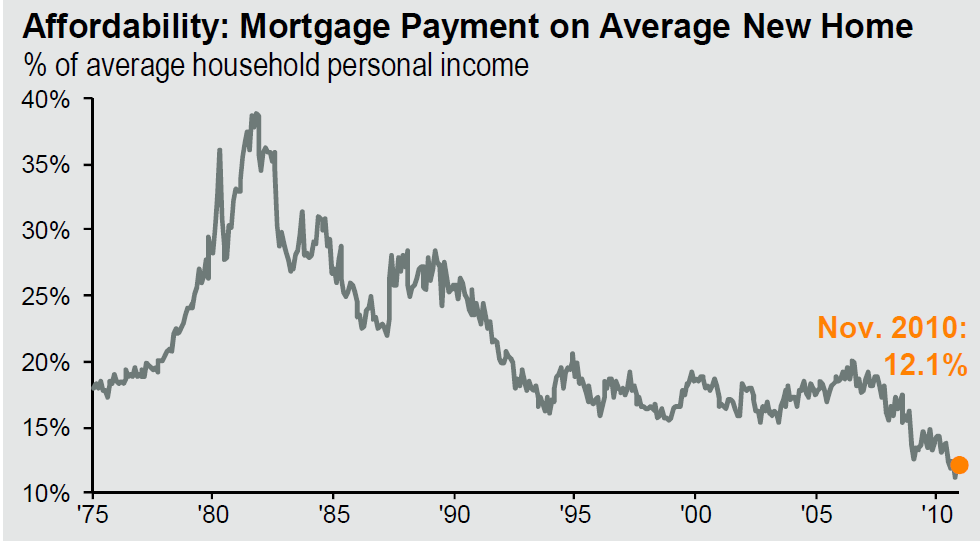 Sources: National Association of Realtors, FactSet, J.P. Morgan Asset Management. (Top right) Census Bureau, National Association of Realtors, J.P. Morgan Asset Management. Data reflect most recently available as of 12/31/10. Home price based on median sales price of existing homes and are cumulative, not annualized.
Some argue that the only thing holding housing back is the high unemployment rate. It doesn't matter how affordable a home is when you're worried about holding on to a job. The other problem is tight credit. It's not as easy as it once was to qualify for a mortgage. Even with good credit the process takes a lot longer and you have to jump through a few more hoops to get the loan approved. All of these issues should be resolved as the economy recovers.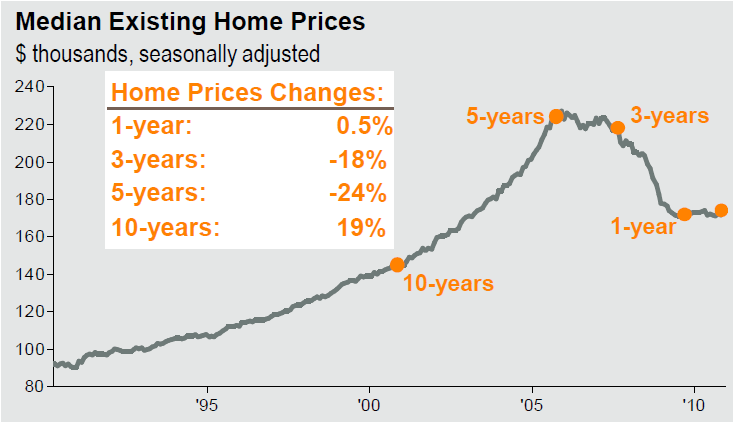 Sources: Census Bureau, FRB, BEA, J.P. Morgan Asset Management.
Note: Assumes a 20% down payment, a 30-year fixed rate mortgage, excludes property tax and homeowners' insurance and is expressed as a percent of pre-tax income. Data reflect most recently available as of 12/31/10.
I'm not trying to debate the merits of investing in real estate but rather whether it should be held in a retirement account. In chapter two of "The New Three-Legged Stool" I discuss after-tax investment strategies for investing in a tax-efficient way. The basic premise of tax efficient investing is to place the most inefficient investments in your retirement accounts and the most tax efficient investments in your taxable accounts. Interest earning investments like bonds and CD's are an example of an inefficient asset. They produce investment returns that are taxed as ordinary income each year. Whether their return is produced in a retirement account or not, the tax implication of owning bonds is the same.
Examples of tax efficient investments would be stocks and stock mutual funds. Most of the return is either long-term capital gains or qualified dividends. Both have favorable tax treatment at least until December 31, 2012. Another tax efficient investment would be real estate.
When you own real estate in a tax deferred account you give up the traditional tax advantages that you would have if you owned it in a taxable account. You can't deduct the property taxes or mortgage interest. You can't depreciate the property. Furthermore, when you sell the property you lose the tax advantage of the long-term capital gains treatment just like stocks. The maximum long-term capital gains rate is currently 15%. Withdrawals from a retirement account are taxed as income and currently have a maximum tax rate of 35%. You could more than double the potential tax rate on your real estate holdings.
Owning real estate in an IRA also creates a whole set of problems that can potentially cause the IRS to disqualify your IRA and declare the entire account taxable.
From Natalie Choate's "The 100 (188) Best and Worst Planning Ideas for Your Client's Retirement Benefits" 2008 2nd Edition:
"Owning mortgaged real estate. If an IRA owns real estate that is subject to a mortgage, the income from that real estate will be debt-financed income for purposes of the tax on UBTI. A qualified plan (but not an IRA) gets an exemption from the UBTI tax for income from certain (not all!) mortgaged investment properties. § 514(c)(9). Note: The UBTI problem arises only when an investor borrows money (with a mortgage or otherwise); it does not arise when an investor lends money. Interest income from a mortgage that is held as an investment of the plan or IRA generally is not UBTI. UBTI issues would arise in connection with a mortgage held by the plan only if the plan shared in the mortgagor's profits or controlled the mortgagor, or if the plan's lending activities were deemed a "business" rather than a passive investment." UBTI is Unrelated Business Taxable Income.
According to Choate "One of the best ways to have your IRA disqualified by the IRS is to engage in a "prohibited transaction." One type of prohibited transaction is a transaction between the IRA and a "disqualified person." § 4975 lists "disqualified persons," such as the IRA owner (as "fiduciary" of the account) and his/her spouse, ancestors, descendants, and spouses of descendants, as well as entities majority-owned by such parties. Some advisers conclude from this that an IRA can freely engage in transactions with anyone (such as the IRA owner's girlfriend, stepchild, or sibling) who is not a "disqualified person." However, the fact that a transaction between the IRA and "disqualified person" is automatically a "prohibited transaction" does not mean that a transaction between the IRA and someone who is not a "disqualified person" is automatically not a prohibited transaction. Other transactions may be prohibited transactions for other reasons, such as an indirect benefit to the IRA fiduciary.
Another type of prohibited transaction is when the IRA owner pays for some expense related to the ownership of the real estate and later is reimbursed from the IRA account. This could easily happen when there is some repair that needs to be done in a timely fashion and the IRA account does not have sufficient cash to pay the expense. The owner pays the vendor for the repair and reimburses himself after income is received by the IRA.
There are many pitfalls to be aware of when holding real estate in a retirement account. Two web sites devoted to this topic belong to IRA custodians who specialize in holding real estate, Pensco and Entrust.