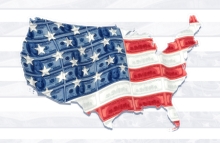 The federal government is not the only one looking to reduce deficits by raising taxes on the wealthy. The personal income tax is a major source of revenue for 41 states. Raising the tax rate on the top tier can generate a significant amount of money from small rate increases that involve a relatively low number of taxpayers. California and Maryland are two such states to join the U.S. government by turning to tax increases on high-income residents to lower deficits.
Last November California voters approved a tax increase retroactive to Jan. 1, 2012. The tax rate on income exceeding $1 million jumped to 13.3 percent, the highest of any state, up from 10.3 percent. Maryland approved a retroactive tax increase in May 2012, adopting higher graduated income tax rates on income over $100,000 for singles and over $150,000 for joint filers. Maryland's top tax rate now stands at 8.95% for income over $250,000.
California taxpayers will pay more than 50 percent of their wages in taxes when factoring in the new top federal tax bracket, the top state tax bracket and the new Medicare surtax which came out of the healthcare reform bill passed in 2010. Ouch!!!
After California passed the tax increase, golf champion Phil Mickelson, a California resident, said he would make some "drastic changes" because of higher taxes. "I happen to be in that zone that has been targeted federally and by the state," Mickelson said. "It doesn't work for me right now, so I'm going to have to make some changes." While higher rates haven't caused a mass exodus historically, other top earners have already made moves or are calculating with their advisors whether they should.
There are currently nine states who don't levy a personal income tax on residents. They are:
Alaska
Florida
Nevada
New Hampshire
South Dakota
Tennessee
Texas
Washington
Wyoming
Personal income taxes are only one area of taxation to consider when considering a new state of residence. The five major taxes employed by states to raise revenue are – individual income, corporate, property, sales or unemployment insurance. Only five states lack a sales tax altogether. They are:
Alaska
Delaware
Montana
New Hampshire
Oregon
Neither New Hampshire nor Texas impose an income tax but they make up for it in property taxes. Both states have some of the highest property taxes in the nation. The Tax Foundation's list of states whose residents pay the least in taxes are:
Alaska at 6.4% of income
Nevada at 6.6% of income
Wyoming at 7% of income
Florida at 7.4% of income
New Hampshire at 7.6% of income
Top earners should consider their options and be proactive. The savings could be significant. An affluent California taxpayer with $1 million of annual income could save as much as $130,000 in state income taxes if they were a resident of one of the 9 states without income taxes.
Taxpayers in high tax states don't even have to move if they hold income producing assets in trusts. The trust can be located in a state with little or no taxes to benefit. The number of trust companies has nearly doubled in the state of New Hampshire over the last 10 years. Estimates show $311 billion held in trusts regulated by New Hampshire at the end of 2011. That's more than all of the other financial assets, including bank deposits, that the state regulates.
New Hampshire's Trust Modernization and Competitiveness Act, enacted in 2006, was the first big rewrite of trust laws in years and was designed to attract this business. Here are some of the reasons New Hampshire is an attractive state to have a trust:
The trust can last forever. New Hampshire is one of the first states to repeal the rule against perpetuities.
Income from the trust isn't taxed by the state. The state's tax on interest and dividends was eliminated for non-grantor trusts. Beneficiaries still have to pay the tax on what is distributed to them. However, anyone wishing to allow their assets to grow within the trust don't have to pay income tax.
Trusts can transfer assets to another trust to improve an older trust with restrictive or ambiguous provisions by writing a new trust and moving the assets.
To be sure, taxes are not the only criteria when deciding whether to change your state of residence. Weather, employment opportunities, children's education and being closer to family and friends are other important non-financial considerations. Anyone deciding to change their state of residency will need to take steps to prove they have moved.
Buy a home (or rent) in the state you wish to be considered a legal resident.
Change your driver's license. You will need to do so within a certain length of time from the date you move to your new state.
Register your car with your new state's DMV and get new in-state license plates.
Change your address with all institutions that send you mail, especially your bank, creditors and insurance companies.
Fill out the IRS change of address form (8822), available from IRS.gov.
Rick's Tips:
There are nine states that don't have a personal income tax.
Effective tax rates can exceed 50% on high income earnings living in high tax states.
Establishing a trust in a state with no income taxes could save state taxes without moving.