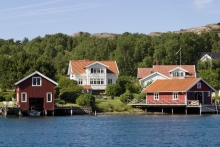 Tax planning is probably the last thing you're thinking of this summer. April 15th is way off in the future and you may not have even filed everything away from 2014. Taxpayers who filed for extension haven't even finished their taxes. However, a mid-year tax planning session is an excellent time to review projections and develop a strategy for minimizing taxes in 2015.
Threshold planning
The first place to start is to run income projections for the year to determine an estimate of your adjusted gross income (AGI). The Medicare surtax of 3.8% is applied to net investment income over $200,000 (single filers) and $250,000 (married joint-filing couples). Taxpayers start to lose their itemized deductions and personal exemptions when AGI exceeds $258,250 (single filers) and $309,900 (married joint-filing couples). Taxpayers on Medicare will pay higher premiums when AGI is more than $85,000 (single filers) and $170,000 (married joint-filing couples). Seniors will start to pay income tax on Social security benefits when AGI is greater than $25,000 (single filers) and $32,000 (married joint-filing couples).
Income projections will reveal how close you are to reaching one of these thresholds. You may be able to increase retirement plan contributions to the company 401(k) or 403(b) plan to lower AGI. Look for opportunities to delay income until 2016 if possible. Eliminate income producing investments from taxable accounts to reduce investment income for the remainder of 2015.
Avoid underpayment penalties
Are you having enough taxes withheld from your income based on your income projection? Plan to have just enough tax — not too much, not too little — withheld to meet your eventual annual tax bill. You can easily change your tax withholding by submitting a new W-4 to your payroll department.
The IRS requires quarterly estimated tax payments if you expect to owe at least $1,000 in tax for the year and you expect your withholding and refundable credits to be less than 90% of your estimated tax for this year or 100% of the tax you owed last year. Taxpayers can avoid underpayment penalties by following the requirements for a "safe harbor" exception:
You make payments by 2015's due dates and,
2015's combined estimated and withheld taxes equal at least 90 percent of the actual taxes you owe for 2015 or 100 percent of 2014's total tax liability—whichever is the lesser figure.
Taxpayers with 2014 AGI of more than $75,000 (single filers) and $150,000 (married joint-filing couples) pay in at least 110% of last year's tax liability.
Review the estimated payments you made in April and June and compare it to your projection to see if you are still on track. You can adjust the last two payments if needed to reach the safe harbor exception.
Life changes
What has changed this year from an income tax perspective – marriage, divorce, death of a spouse, birth (or adoption) of a child, children leaving home and no longer dependents? Some of these changes will have a profound impact on your taxes. Income projections should include changes to your filing status to review how this will impact your final tax bill. It's not unusual for a surviving spouse to find out how expensive taxes can become the first year they file single.
Deduction planning
Will you be able to itemize deductions in 2015? Taxpayers who are close to the standard deduction level may save taxes by accelerating deductions in one year. Paying ahead on certain deductions such as unreimbursed employment expenses, medical insurance premiums, mortgage payments, and sales tax on large purchases can have a bigger impact on your tax bill. Use a donor-advised fund (DAF) to lump several years of charitable giving. This strategy can also help minimize capital gains by funding the DAF with appreciated securities instead of using cash.
Opportunistic tax planning
Your income projection may reveal that 2015 will be a low income year. The prior recommendations were aimed at lowering taxable income. Taxpayers who already project low income may want to consider increasing income this year to take advantage of a low tax bracket. These taxpayers may benefit from diversifying their retirement tax situation with a Roth IRA conversion which can provide tax-free retirement income. Converting a portion of their traditional pretax IRA or 401(k) (if their company plan permits conversions) account means paying tax this year on the amount converted. The earnings will grow tax deferred after conversion and will be tax-free when withdrawn after five years if the taxpayer has reached age 59 ½. The conversion doesn't have to be completed until year end. Knowing now that you plan to complete a conversion will allow time to adjust tax withholding and/or estimated tax payments if needed.
Another opportunistic strategy is to harvest long-term capital gains if you are going to be in the 15% tax bracket. The concept is to sell appreciated securities that you've held for at least 12 months to realize the long-term gain for tax purposes. You can immediately repurchase the same asset because there is no wash sale rule for realizing gains. Anyone in the 15% tax bracket should seriously consider realizing gains up to the top of the 15% tax bracket. Long-term capital gains are taxed at 0% in 2015. Those living in states that tax capital gains will need to consider the state tax implications of this strategy.
Enjoy the summer but don't forget to plan. Some of these strategies need time to implement.
Rick's Tips:
There are income thresholds in the tax code where significant tax increases begin. Staying below these thresholds can produce the greatest tax savings.
Taxpayers can't always avoid taxes but they can avoid tax penalties. Know the rules and avoid paying more than your fair share.
Effective tax planning should take a long range view. There are times when paying more tax this year can mean paying a lot less in the future.