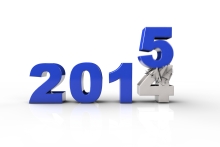 Social Security recipients are not the only ones getting a raise in 2015. Elective deferral limits for employees who participate in defined contribution plans like 401(k)s, 403(b)s and most 457 plans are also getting a raise.
The annual cost-of-living adjustment will be 1.7% this year for Social Security beneficiaries. The maximum Social Security benefit for a worker retiring at full retirement age will increase to $2,663 per month in 2015. Social Security benefits are penalized for retirees drawing benefits before full retirement age if they earn too much. The earnings limit will increase to $15,720 in 2015. Retirees earning more than this level before age 66 will see $1 in benefits withheld for every $2 in earnings above the limit.
Medicare Prescription Plans
Seniors don't often see the entire increase in their monthly check. Medicare premiums for part B and D are usually increased annually and the premiums are deducted from Social Security payments. Most seniors pay the standard premium amount of $104.90 per month, which will stay the same in 2015. Seniors with modified adjusted gross income (including tax-exempt interest) in 2013 higher than $85,000 for single taxpayers, or $170,000 for married filing jointly, will pay more. This is the income level where a high-income surcharge is added to the standard Part B premium. The monthly surcharge will cost between $42 and $230.80. The surcharges did not increase this year either. The maximum monthly Medicare premium including the surcharge is $335.70. Seniors reach this level when income tops $214,000 for singles or $428,000 for joint filers.
Seniors who carry the Part D prescription-drug plan will see a small premium increase depending on the type of plan they choose. Part D premiums are rising by $1 per month, on average, in 2015. Some of the more popular plans are raising premiums even more. Industry experts say the average increase will be closer to 11% for the more popular plans. The number of Part D plans is also decreasing in 2015. Some seniors will be forced to pick new plans because their plan might not be offered next year.
Social Security Taxes
Working Americans will also have to pay more in Social Security taxes in 2015 if their earnings are above the threshold. The maximum taxable earnings threshold increases from $117,000 to $118,500 in 2015. There is no limit on income subject to Medicare taxes. There is also an additional 0.9% Medicare surtax on wages and self-employment income above $250,000 for joint filers or $200,000 for single taxpayers. The threshold and the amount of income subject to tax are based on the combined income on a joint return. The surtax applies only to the employee's share of the Medicare tax, not the employer portion.
Retirement Savings Plans
The good news for working Americans is the increase in contributions to elective deferral plans. Taxpayers will be able to contribute up to $18,000 to these plans in 2015. The increased contribution will help reduce adjusted gross income and potentially reduce the surtax and surcharges. The catch up provision in 2015, for workers age 50 and older, also increased from $5,500 to $6,000.
Unfortunately, the contribution limit to Traditional IRAs and Roth IRAs remains at $5,500 ($6,500 for those 50 years old and older). However, the income phase-out range will increase next year. The phase-out range for contributions to a Roth IRA is $183,000 to $193,000 for joint filers and $116,000 to $131,000 for singles.
The income limit affecting the ability to take the savers credit will also increase next year. The income limit for this credit, which is also referred to as the retirement savings contribution credit for low- and moderate-income workers, is $61,000 for joint filers and $30,500 for single filers. The saver's credit helps offset part of the first $2,000 workers contribute to IRAs and to other elective deferral programs through their employer. Like other tax credits, the saver's credit can increase a taxpayer's refund or reduce the tax owed. The maximum saver's credit is $1,000 for single filers and $2,000 for joint filers.
Estate and Gift Taxes
Finally, the 2015 estate and gift tax limits were also adjusted. The federal estate tax exemption rises to $5.43 million per person, but the annual gift exclusion amount will remain at $14,000. These amounts are adjusted annually for inflation, but the gift tax exclusion only moves in $1,000 increments. The federal estate tax exemption moved up by $90,000 ($180,000 for a couple claiming portability). The top federal estate tax rate remains at 40%.
Rick's Tips:
Social Security benefits increase by 1.7% and Medicare Part B premiums will remain the same.
It's important to monitor adjusted gross income for income taxes and the Medicare premium surcharge.
IRA and Roth IRA contribution amounts will not change, but the income thresholds to make these contributions will be higher in 2015.
The maximum elective deferral into company-sponsored defined contribution plans has increased to $18,000 with a catchup provision of $6,000 for those age 50 and older.