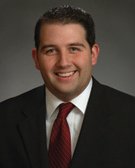 Alan Campbell, CFP®, CRPC®

Since joining Rodgers & Associates in 2006, Alan has delivered Rodgers and Associates' integrative wealth management services to help high net worth clients achieve their financial goals.
He holds a BS in Accounting from Utah State University and an MBA from Texas Tech University. Alan is one of the few Advisers, nationwide, who've earned the coveted MS in Personal Financial Planning from Texas Tech. As with all of Rodgers & Associates Planner-Advisers, Alan embraces the idea of advising rather than selling clients and brings this perspective into each client interaction.
Because he enjoys sharing personal finance knowledge, Alan volunteers regularly as a teacher through Junior Achievement. A father of two and a huge college football fan, he and his wife are Lancaster County residents and active members of their church.