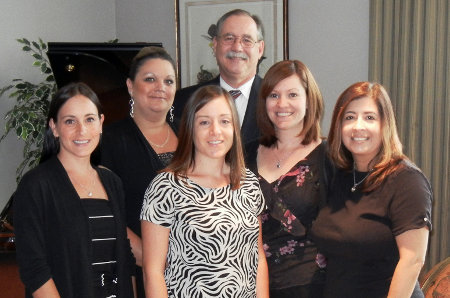 From left to right, Barbara Smith, Erika Eckman, Amanda Minchhoff, Mark Eisenberger, Susan Snyder and Sandy Skrodinsky.
From your initial meeting with Mark Eisenberger, our director of business development, to subsequent meetings with your advisor, our goal is to provide you with a pleasant experience on your way to the lifestyle you desire. Our client services team supports that effort by working closely with, and assisting, your advisor.
As director of operations, Sandy oversees the client service area, supervises the support staff and serves as liaison between Rodgers & Associates and our custodians. In her role as chief compliance officer, Sandy is tasked to assure that the company's actions are in compliance with current regulations and that our responsibility as a fiduciary to our clients is always upheld. Sandy holds a Bachelor of Science degree in business from Kutztown University.
Susan Snyder, Office Manager and Registered Paraplanner℠
In her role as office manager, Susan assists Jessy in the day-to-day operations of the office by performing such duties as ordering supplies and serving as liaison between employees and IT providers. Susan also coordinates essential material used by Rodgers & Associates financial planners while assisting the planners with scheduling, administration duties and review preparation. Her work allows our financial planners to utilize their time with clients more efficiently. Susan joined Rodgers & Associates in 2000 and received her Registered Paraplanner℠ certification from the College for Financial Planning in 2005.
Mark Eisenberger,
Director of Business Development
With nearly a quarter century of experience in the financial industry, Mark coordinates and oversees marketing, advertising and new client business development efforts for Rodgers & Associates. Since joining the company in 2002, he has worked on the firm's charitable and corporate development initiatives. Mark is a golfer and an avid outdoorsman.
Barbara Smith,
Client Service Assistant
Barbara provides client support services in our operations department. Her responsibilities include all aspects of paperwork preparation and handling client requests. Barbara also administers our database software and serves as our liaison with the software developers. After several years as a part-time employee, Barbara joined Rodgers & Associates full time in 2002.
Amanda Minchhoff,
Client Service Assistant
Amanda provides client support services in our operations department. Her responsibilities include preparing and tracking paperwork, handling client service requests and order verification services. Prior to joining the team at Rodgers & Associates in 2006, Amanda served as a U.S. Marine Corps combat photographer and was stationed in Japan, Virginia, and Pennsylvania.
Erika Eckman,
Receptionist and Administrative Assistant
Erika joined the Rodgers & Associates team in 2011 and is responsible for directing incoming phone calls to the proper team member as well as personally greeting clients and other visitors to our office. Erika also performs a variety of general office duties in her capacity as administrative assistant.
Jessica Rodgers,
General Manager
Jessy is responsible for the overall administration of the business end of Rodgers & Associates. Her day-to-day responsibilities include accounting and all financial-related activities for the company, staffing and the supervision of property management.